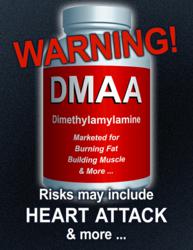 It's possible that the DMAA ban could see ingredients with limited safety data making their way into bodybuilding and fat loss products. - Sami Chamoun
Brisbane, Australia (PRWEB) April 24, 2013
A U.S. Food and Drug Administration (FDA) consumer update declaring the popular bodybuilding supplement DMAA unsafe and illegal could backfire for consumers if manufacturers look for replacement ingredients that pose even greater safety risks, says Sami Chamoun, general manager of a leading online Australian supplement retailer Serious Supplements.
"It's possible that the DMAA ban could see ingredients with limited safety data making their way into bodybuilding and fat loss products," said Chamoun.
"There are already growing concerns here in Australia that a non DMAA workout supplement has been spiked with a dangerous amphetamine analogue," said Chamoun.
On April 11, 2013 the FDA issued a warning against the ingredient DMAA, found in popular supplements such as USP Labs' Jack3d and Oxyelite Pro. According to the FDA, DMAA can elevate blood pressure and could lead to cardiovascular problems.
Despite ongoing safety concerns about DMAA,as cited in this NBC News report published April 13, 2013, the ingredient is clearly listed on the labels of Jack3d and Oxyelite Pro and has a least some safety data supporting its use.
Swedish authorities announced their finding June 6, 2012 about the Driven Sports product Craze and found N,alpha-diethyl-benzeneethanamine.
The suspected amphetamine analogue was also detected in a sample the Australian Sports Anti Doping Authority (ASADA) collected in-competition from Rugby League player Troy Errington at a Sydney Shield match on 28 July 2012. The ASDA announced its findings in a news release on December 14, 2012 that may be found at http://www.asada.gov.au/publications/media/media_releases/asada_release_121214_Troy%20Errington_Sydney_Shield.pdf
According to ASADA N, alpha-diethyl-benzeneethanamine is not specifically named on WADA's 2012 Prohibited List but it has similar chemical and biological effects to amphetamines so is considered illegal.
Chamoun, while concerned, was cautioning against alarm until an official statement had been made by Australia's Food Enforcement Agencies on the nature of the testing.
"If the reports turn out to be true and the supplement has been deliberately spiked, it's a truly disturbing development," Chamoun said. "It's important to remember that supplement spiking is very rare, but I suppose it's possible that some manufacturers are feeling pressure to replicate the effects of DMAA."
Chamoun's comments come on the back of a brand new report published by scientists in the Journal of the American Medical Association JAMA Internal Medicine showing that weight loss and bodybuilding supplements are responsible for over 90% of recalls for dietary supplements tainted with unapproved drug ingredients. The JAMA article was published April 15, 2013 and may be found at http://archinte.jamanetwork.com/article.aspx?articleid=1678813
The report analysed data from January 2004 through December 2012 and found that 465 drugs were subject to a class 2 recall in the US. Fifty-one percent of these were for "dietary supplements" with weight loss, sexual enhancements and bodybuilding products taking the accounting for 27%, 40% and 31%, respectively.