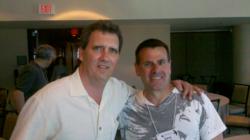 I pretty much give Bob all the good job orders. It's at the top of my checklist when I get a job order. I don't waste a couple of weeks to see if I can fill it by myself. I want to fill positions as quickly as possible.
CANTON, Ohio (PRWEB) April 24, 2013
Thanks in part to their unique relationship as trading partners, recruiters Bob Small and David Sgro have each earned Frequent Contract Placer (FCP) awards through Top Echelon Contracting, Inc., (TEC) for the placements they made in 2012.
Recruiters who utilize TEC's contract staffing back-office services are automatically enrolled in the free FCP program. Recruiters get "cash-back" points based on the recruiter income (commission) they earn on contract placements made through TEC each calendar year. They can earn up to 3% more in contract placement income through the program over and above what they collect for every hour their contractors work.
The FCP awards illustrate the success of Small and Sgro's collaboration. The recruiters met at the Top Echelon Network National Convention in 2007 and became quick friends. Since that convention, the recruiters have made 14 split placements in the information technology sector. That encompasses both contract and direct placements and includes one contractor who has been on assignment since 2008.
"I like to work with Bob," said Sgro, who is President of True North Consultants. "We think a lot alike. We're on the same page for what makes a good candidate. We are very open with each other. I trust Bob. If I needed him to call a client, I'd trust him to do that. We have a great system in place. Not every recruiter would like it, but it works for us."
It also works for their clients who benefit from the nearly 50 years of recruiting experience that the recruiters have between them. It also helps clients get a better quality candidate in a shorter amount of time.
"I pretty much give Bob all the good job orders," Sgro said. "It's at the top of my checklist when I get a job order. I don't waste a couple of weeks to see if I can fill it by myself. I want to fill positions as quickly as possible."
"It's a no-brainer for me to work on his jobs," said Small, who is the Owner and Vice President of Carroll Technology Services, Inc. "The relationship is such that I can concentrate on finding people, finding people, finding people. I'm not setting up interviews, doing client closing, or client feedback. It frees me up to keep finding people and keep funneling them to Dave."
But while Sgro typically provides the job order and Small works the candidate side, they are both involved in the placements from start to finish, which is unusual in trading partner relationships. If Small is unsure about a resume, he'll ask Sgro for his perspective. And although Sgro handles the closing with the client, he can always count on Small to help him remember things and provide ideas.
"It's just a communication thing," Sgro said. "We don't do a ton of email. Most of the time, we call each other. We talk on the phone a lot. We have pretty much daily interaction. I think that's why we are so successful."
About True North Consultants: Since 1999, True North Consultants has helped clients and candidates form mutually beneficial employment relationships. They specialize in contract and direct placements in IT, auditing, accounting, and finance. President David Sgro provides over 25 years of recruiting experience.
About Carroll Technology Services, Inc.: Carroll Technology Services, Inc., recruiters have extensive experience recruiting in the internetworking and software development arenas. Particular areas of depth include: Storage Area Networking (SAN), Carrier Class WAN Infrastructure design and deployment, Enterprise and Network Security, PKI, Directory Services, Enterprise and Network Management, Software Development (Java, C/C++, XML), Oracle, CRM and Project Management. Their recruiting team maintains a broad pool of Senior Staff, Management and Executive level Technical, Sales, Marketing and Business Development candidates. As the Owner and Vice President, Bob Small has been recruiting for more than 24 years.
About Top Echelon Contracting: Based in Canton, Ohio, Top Echelon® Contracting, Inc. (TEC), the recruiter's back-office solution, helps recruiters offer contract staffing to clients and candidates. As a contract staffing service provider since 1992, TEC becomes the employer and handles all of the contractor paperwork, legal contracts, timesheet collection, payroll processing and funding, tax withholding, benefits, Workers' Compensation, invoicing, collection of accounts receivables, background checks, etc. TEC does business in 49 states and specializes in technical, professional, and healthcare contract placements.