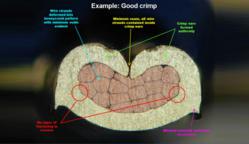 Properly crimped wires are the lifeblood of the wire termination industry...
Bradenton, FL (PRWEB) April 24, 2013
ETCO Incorporated announced today the release of a multi-language crimp guide that shows what the engineers at the company are calling an industry leading wire crimp for connectors. The crimp guide comes in a large pdf color format in English, Spanish and Chinese Traditional. It demonstrates the various types of crimps currently produced by manufacturers in the industry. ETCO's engineers outline the best type of crimp both visually and with descriptions and depictions of crimped wires in real world applications.
The ETCO Guide to Quality Crimps walks the user through measurements of a wiring crimp height. It outlines the process behind how the crimp height should be measured and the tools that would need to be used. It also walks a user through a cross section of crimps and shows the criteria behind a terminal crimp. Through a series of diagrams a reader can see the difference between a normal and acceptable crimp and a crimp that has problems like open seams, voids, barrels that are too long, segmentation and excess material extrusion. When crimping wires, understanding the various scenarios is essential in providing the right crimp that in turn provides a solid long lasting wiring connection.
The diagram also demonstrates the importance in terms of safety and quality of providing a connection that starts out right in the custom manufacturing process. Appliance, medical device and automotive manufacturers that use wires with badly crimped terminal connections are more likely to have product issues having to do with safety, returns and product performance than properly crimped wire terminal connections.
Eddie Jacques ETCO's Director of R&D states, "Properly crimped wires are the lifeblood of the wire termination industry and ETCO has always been at the forefront of creating proper connections that cut down on accidents and product malfunctions." He continues, "This crimping guide will help manufacturers get a good view on the best types of connections for a myriad of products in the appliance, automotive and medical device manufacturing industries."
ETCO will have a hands-on display of proper wire crimps and will distribute the new wire crimping guide at the Wire Processing Expo in Milwaukee, Wisconsin on May 8th and 9th 2013.
Founded in 1947, ETCO is a privately owned company. The Company manufactures precision metal stampings and rubber and plastic molded products used principally by major automotive and appliance manufacturers. ETCO also has major customers in a variety of other industries in the USA and over 30 countries throughout the world. ETCO has factories and a research complex in Bradenton, Florida and a factory and engineering center in Warwick, Rhode Island.
For more information on ETCO, visit the Company website online at http://www.etco.com