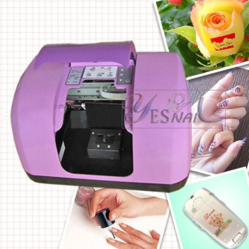 (PRWEB) April 24, 2013
Asia Nail, a major nail supplies manufacturer in Asia, now launches its newest product, the multi-functional nail art printer SP-M06A. This digital nail art printer can achieve nonstop business due to its optimized internal structure and upgraded quality standard. What's more, the SP-M06A is an all-in-one solution packed with all kinds of extra functions.
The SP-M06A is a special multi-functional nail printer that can print individualized designs directly on nails, flowers and cell phones. This printer is light in weight and small in size. Equipped with different printing software, it can print on nails, flowers, cell phones and other small souvenirs, such as MP3, electronic books, etc.
The SP-M06A digital nail art printer is a high-tech product. It is capable of painting swiftly any complicated pattern, word or photo on finger nail in 10 seconds. Painting effect reaches to high quality of photo. It is a necessary product in nail salon and beauty salon because of simply operating, easily learning, and exceeding over manual nail art in pattern variety, number, style, effect and efficiency.
SP-M06A nail art printer-free accessories:
1 color ink cartridge,
1 fuse (for standby),
1 UV light (for standby),
1 adapter/transformer,
1 electrical cable with plug,
6 bottles (60ml) base coat, (2 bottles for each function),
3 sets holder,
1 manual and software DVD,
2 designs catalogues,
1 kit of nail tools
Visit Asia Nail for more details: http://www.asia-nail.com/