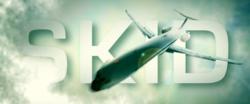 No Christian fiction novelist can tickle a funny bone like Gutteridge, and her third installment in the Occupational Hazards series doesn't disappoint and works easily as a stand-alone.
Oklahoma City, OK (PRWEB) April 23, 2013
Several Oklahomans are set to star in Skid, an upcoming film based on the third installment of the Occupational Hazards series by Rene Gutteridge. Oklahoma-born Wil Crown plays lead Hank Hazard, a 28-year-old former mime who has struggled to find his place in the world. Following the death of his parents in a freak hot tub accident, Hazard's latest foray is working as a spy for Atlantica, for which he flies incognito to evaluate the service of various airlines.
Author Gutteridge is an Oklahoma native and award-winning author, screenwriter and playwright. Gutteridge has published 18 novels, and has been published extensively as a comedy sketch writer. Her novel Skid follows the humorous escapades of an eclectic cast of characters as they fly from Atlanta to Amsterdam.
The cast includes fellow Oklahomans:
●Torey Byrne, otherwise known as the recently jilted Lucy Meredith, whose patience is tested by the sudden appearance of her ex and his new traveling partner;
●Laurie Cummings as GiGi, a lonely flight attendant and three-time divorcee; and
●Brett Bower, also known as First Officer James Lawrence, who focuses his energies on navigating the turbulent personalities onboard.
Skid is currently filming in Oklahoma at the OKC MetroTech Aviation Campus, Spartan College and Tulsa International Airport.
Production is currently looking for additional extras to appear in the movie. If interested in being cast as an extra in Skid and can be on set for several days in Oklahoma City or Tulsa, please send name, phone number and photo to extras(at)katzkasting(dot)com.
Gutteridge penned Skid to make readers laugh, while still imparting a lasting impression, and her readers seem to agree:
●No Christian fiction novelist can tickle a funny bone like Gutteridge, and her third installment in the Occupational Hazards series doesn't disappoint and works easily as a stand-alone. What could have been clichéd slapstick turns into unbridled hilarity in her capable hands, and the laughter doesn't stop until the wheels touch the tarmac. —Publisher's Weekly
●Fasten your seatbelts low and tight across your lap; open that tiny bag of peanuts, and get ready for a rollicking fun flight as Rene Gutteridge, the funniest inspirational novelist in the business, pens SKID, her third installment in the Occupational Hazards series and the best of the bunch. This time, Gutteridge turns her pen to the airline industry, managing to incorporate enough wacky characters and oddball situations to fuel a year-long television sitcom. —Cindy Crosby, Faithfulreader.com
For more information about Skid, visit https://www.facebook.com/home.php#!/skidmovie?fref=ts.
About Rene Gutteridge:
Rene Gutteridge is the award-winning and best-selling author of more than 18 novels. Her romantic comedy Never the Bride won the 2010 Carol Award for Best Women's Fiction. Her upcoming literary projects include the novelization of the motion picture Old Fashioned with Tyndale House Publishers and filmmaker Rik Swartzwelder. Her adaptation of her novel My Life as a Doormat is in development with Kingdom Pictures, and she is also a creative consultant for Boo, a film based on her best-selling novel, in development at Sodium Entertainment with Cory Edwards attached as director and Andrea Nasfell as screenwriter. Her screenplay Skid is currently in production with Grey Wolf Productions and is scheduled to begin filming in April of 2013. She teaches fiction and screenwriting at conferences across the country. Rene lives in Oklahoma City with her family. Find her on Facebook and Twitter or at her website, http://www.renegutteridge.com.