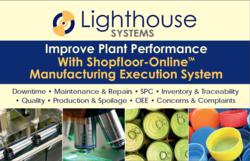 The ability to track data by serial number is very important. With Lighthouse software, we have reduced the amount of time this takes from days to minutes. For me, this is priceless.
Rochester, NY (PRWEB) April 24, 2013
QIC, together with Lighthouse Systems, are set to present Shopfloor-Online, Lighthouse Systems' MES Software on booth number 508 at the Food Safety Summit April 30th – May 2nd 2013. The conference will be held at the Baltimore Convention Center in Baltimore, MD.
Benefits of the Conference
The Food Safety Summit is a solutions based conference that offers attendees the opportunity to learn from the best and brightest minds in the industry. Certification and training will be offered in areas like HACCP and ServSafe® for attendees during the conference.
Focused workshops are also on the schedule to discuss critical business issues impacting the food industry in today's market. Registered attendees can learn about the FDA Food Defense Plan Builder Tool and how it can help in their day to day activities. There is also a workshop dedicated to the impact of the US Food Safety Modernization Act (FSMA) on International Regulatory Policies and Trade. Among other things, an objective of this workshop is to explain how US trading partners are changing food safety policies and regulations as a result of this new Act and what it means to businesses.
The QIC and Lighthouse Solution – Shopfloor-Online
Shopfloor-Online is a comprehensive, web-based MES Software solution that provides a complete and real-time view of all aspects of Manufacturing Operations Management. A major component of Shopfloor-Online is in the area of Traceability which is vital to food safety.
Traceability means manufacturers have to record each lot of materials consumed in each step of the manufacturing process. They must be able to take any pack of finished goods and be able to report what went in it, when and where throughout the process. This means tracking back through semi-finished goods processes, back to incoming raw materials from suppliers. Shopfloor-Online is naturally positioned to capture this traceability information at the point of consumption by operators on the shop floor.
About Quality Integrators Corporation
Helping organizations achieve more from Manufacturing Execution and Quality Management systems, Quality Integrators Corporation ensures data collection is easy & secure, with as few operator keystrokes as possible. These systems are flexible enough to adapt to customer processes and culture, but rigid enough to maintain plant, division, or corporate standardization and common language. Eliminate "Garbage in, Garbage out".
QIC "turn-key" implementations, include hardware, software, training, documentation, support, on-site support, best practices, and SOPs.
The QIC focus includes:
Farm-to-fork traceability, closed loop quality systems, document control, visual schedule management, downtime collection and analysis, formula management/nutrition, KPI/Takt, LIMS, net contents, WHIMIS Audit, OEE, Permit audit compliance (EPA, Local authorities), and SPC.
Achieving Registration, Certification and Compliance to: ISO, BRC, SQF, GFSI, HACCP, CFR, GxP, FDA, USDA, EPA, SOX, CFIA, FSMA, WHMIS/OSHA, EU GMO, BTA 2002, EU HSR and other permit and regulatory agencies.
For additional information please visit http://www.qic-intl.com
About Lighthouse Systems
Lighthouse Systems is one of the world's leading developers of Manufacturing Execution Systems (MES) with offices in London, Singapore, and Rochester, NY. Lighthouse Systems Shopfloor-Online is web based modular software that provides real time visibility of the entire manufacturing operations environment. Applications include Maintenance Management, Concern Management, Quality, SPC, Downtime, OEE, Spoilage and Inventory Traceability. Shopfloor-Online is being used in a wide range of industries with some of the biggest manufacturing companies; it is deployed in 15 languages in 28 countries.