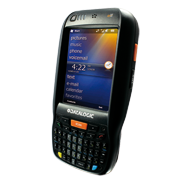 Kassandra Mills, the 3rd generation manager, states, "The use of mobile computers has cut down on the time the office staff has had to manually post tickets because the technicians are doing it for them."
Eugene, OR (PRWEB) April 23, 2013
Datalogic, a global leader in Automatic Data Capture and Industrial Automation, announces the release of a new field service video case study for field force automation. This study highlights the benefits experienced by Okolona Pest Control when they implemented the use of the Datalogic Elf™ mobile computer by their field technicians. The Elf mobile computer is an enterprise PDA designed specifically for use in field force applications delivering voice and data connectivity for workers outside the four walls. Okolona Pest Control outfitted 57 field service technicians with Elf mobile computers maximizing their productivity and increasing their level of customer service.
Founded in 1972, Okolona Pest Control is the perfect example of a modern pest control operation that offers pest control and pest damage repair to clients from Southern Indiana to Northern Kentucky. Kassandra Mills, the 3rd generation manager, states the use of mobile computers "has cut down on the time the office staff has had to manually post tickets because the technicians are doing it for them." The ability to dynamically schedule in real time and push the information to technicians allows Okolona to set itself apart from the competition and maximize the number of clients served.
Click here to watch the video case study or read the case study.
For more information on field force applications in mobile computing, contact Datalogic at 800-959-7859, email info(dot)adc(dot)us(at)datalogic(dot)com or visit http://www.datalogic.com.
Datalogic ADC, the world leader in Automatic Data Capture, offers state of the art solutions with fixed position retail scanners, handheld scanners and mobile computers. Datalogic ADC's range includes in-counter and on-counter point of sale scanners, general purpose and ruggedized handheld scanners, rugged mobile computers, industrial PDAs and vehicle mount computers. Solutions for applications in several sectors include healthcare, hospitality/entertainment, manufacturing, retail, services and transportation & logistics.
Businesses in the retail sector can particularly benefit from Datalogic ADC's vision-based technology solutions, analytical tools, self-shopping solutions and consumer relationship technologies.
A division of the Datalogic Group, Datalogic ADC is headquartered in the US with a presence in over 120 countries.
Datalogic Group is a global leader in Automatic Data Capture and Industrial Automation markets. As a world-class producer of bar code readers, mobile computers, sensors, vision systems and laser marking systems, Datalogic offers innovative solutions for a full range of applications in the retail, transportation & logistics, manufacturing and healthcare industries. With products used in over a third of world's supermarkets and points of sale, airports, shipping and postal services, Datalogic is in a unique position to deliver solutions that can make life easier and more efficient for people. Datalogic S.p.A., listed on the STAR segment of the Italian Stock Exchange since 2001 as DAL.MI, is headquartered in Lippo di Calderara di Reno (Bologna). Datalogic Group as of today employs about 2,400 members of staff worldwide distributed in 30 countries. In 2012 Datalogic Group achieved revenues for 462,3 million Euro and invested over 32 million Euro in Research and Development with a portfolio of over 1,000 patents across the world. For more news and information on Datalogic, please visit http://www.datalogic.com.
Datalogic and the Datalogic logo are registered trademarks of Datalogic S.p.A. in many countries, including the U.S.A. and the E.U.