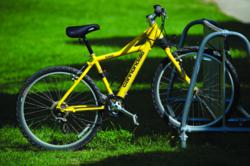 It's really exciting to think about how much good bicycles can do for a campus like ours.
Harrogate, Tennessee (PRWEB) April 23, 2013
Lincoln Memorial University (LMU) became the first college or university in the State of Tennessee to be recognized as a Bicycle Friendly University (BFU) by the League of American Bicyclists. The organization made the announcement on last week
"College campuses are natural places to integrate bicycling – and LMU recognizes the small steps needed to make bicycling a safe and easy option for students and staff," said League President Andy Clarke. "Young people are driving less and riding more, and LMU has embraced that trend."
The program recognizes institutions of higher education for promoting and providing a more bicycle-friendly campus for students, staff and visitors. There are 58 BFUs in 30 states across the United States. LMU joins the company of such institutions as Stanford University, Harvard University, UCLA, University of Maryland, Virginia Tech, Cornell University, Clemson University, Duke University and Yale. The League of American Bicyclists awards Bicycle Friendly University designations at the Bronze (35), Silver (19), Gold (3) and Platinum (1) level.
LMU has worked to improve its bicycle-friendliness throughout the year. In August a fleet of 20 bicycles, 10 mountain bikes and 10 cruisers were made available to students, faculty and staff for free check-out. Cycling-specific lanes on campus roadways came next and were followed by the installation of improved bicycle parking at all residence halls and many of the academic buildings on campus.
The bike check-out program is available on weekdays from 8 a.m. to 4:30 p.m. at the Student Center. The bikes are located on the Greek Patio at the front of the building in a high-security, high-capacity bike hub. A campus ID is required for check-out at Dishner Hall, room 104. The cyclist will receive a key to unlock the bike of their choosing. Bicycles may be checked out for a 24-hour period.
"We're very proud to be the first Bicycle Friendly University in Tennessee," said LMU President B. James Dawson. "It's really exciting to think about how much good bicycles can do on a campus like ours. The benefits are boundless- impacting our environment, our health, our state of mind, parking and congestion."
The University has received grants from New Belgium Brewing Co. and Enterprise to support this program.
The League of American Bicyclists promotes bicycling for fun, fitness and transportation, and works through advocacy and education for a bicycle-friendly America. The league administers Bicycle Friendly Community, Bicycle Friendly State, Bicycle Friendly Business and Bicycle Friendly University programs generously supported by program partners Bikes Belong and Trek Bicycle's One World, Two Wheels Campaign. The BFU program application was developed with funds from a New Belgium Brewing Co. grant.
Lincoln Memorial University is a values-based learning community dedicated to providing educational experiences in the liberal arts and professional studies. The main campus is located in Harrogate, Tennessee. For more information about the undergraduate and graduate programs available at LMU, contact the Office of Admissions at 423-869-6280 or e-mail at admissions(at)lmunet(dot)edu.