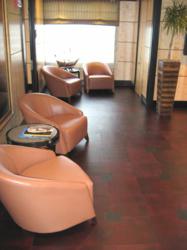 Blackstock Leather Restoration is an excellent value instead of reupholstering, or buying new. Jason Thompson
Toronto, Ontario (PRWEB) April 24, 2013
For over 22 years Blackstock Leather has been selling leather for furniture and manufacturing beautiful Leather Floor and Wall tiles at their centrally located facilities north of Toronto, Canada.
Blackstock Leathers long history of selling leather for furniture and the manufacture of Leather Floor and wall tiles, is now joined by the new division, Blackstock Leather Restoration.
The new Leather Restoration division enables customers in the surrounding GTA to have their leather furniture restored to near new quality and appearance. With over 60 collective years in the industry Blackstock offers unparalleled information for leather design usages as well as restoration tips.
The Silk Road floor and wall tiles are sold and shipped to customers around the world. Blackstock introduced the first ever Magnetic Floor adhesion system over ten years ago and many customers have enjoyed the ease of installation and portability of their long term investment. Blackstock brought to the market the first ever magnetic adhered wall tiles aptly named the "Tapestry collection". This innovation created the ability for customers to choose from a wide variety of furniture grade leathers and have them transformed into beautiful feature wall tiles. Now coming full circle within the leather industry Blackstock offers the restoration of customer's furniture. This enables savvy owners of quality furniture to spruce up and or restore chairs or couches to give it renewed life in the home or office environments. Whether it is new or used, permanent or portable, Blackstock Leather has a solution to your leather requirements for furniture or leather floor and wall tiles.
Blackstock Leather is located North of Toronto Canada in a charming 19th century schoolhouse. The facility is central to the largest Canadian market and is easily accessed for international shipping.
For more information of Leather floor and wall tiles or the magnetic adhesion systems please call toll free from anywhere in North America 1 800 663 6657 ext 228 or visit our website at http://www.blackstockleather.com