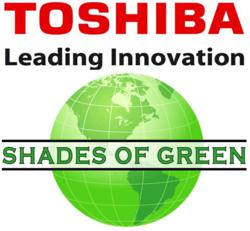 Houston, Texas (PRWEB) April 24, 2013
Toshiba International Corporation announced today that it will be featured in an upcoming episode of Shades of Green.
Shades of Green will focus on Toshiba's Renewable Energy and Smart Grid Systems. These next-generation technologies contribute to society by maximizing system efficiencies while reducing energy costs. This episode will explore how Toshiba combines power generation and power electronics to deliver high levels of efficiency and long-term grid stability to a wide range of customers, including utilities, power producers, governments, industrial companies and commercial building owners.
In addition, viewers will learn about how Toshiba's Micro Grid and Smart Grid platforms help manage and store renewable energy to be dispatched when needed. The hybrid vehicle recharging station located near the Clay Terrace Mall in Carmel, Indiana is one project that will be featured.
"Toshiba Renewable Energy and Smart Grid Systems enable companies and communities to install greater amounts of green energy while reducing their carbon footprint," said Kyle Kem, Vice President at Toshiba International. "Our Smart Grid projects are working models for the future of power generation, storage and delivery throughout the world."
By using its comprehensive product development, engineering and construction skills acquired through the development of large-scale power plants and transmission/distribution systems, Toshiba offers a full range of energy services, from world class products to full turnkey project delivery.
"Toshiba International is setting the tone for a new wave of energy products and technologies, designed to achieve high levels of efficiency and long-term stability," said Robert Sikich, producer for Shades of Green. "This piece will serve as inspiration to a new generation of energy-conscious businesses."
About Toshiba International Corporation:
Toshiba International Corporation (TIC) is a Toshiba America Inc. Group Company, a wholly owned subsidiary of Toshiba Corporation. TIC is headquartered in Houston, Texas and employs approximately 1,800 people throughout North America in its Power, Transmission and Industrial Divisions. TIC provides power and energy products and solutions to a wide range of users including governments, utilities, industrial, commercial and residential customers. For more information about TIC, please visit http://www.toshiba.com/tic.
About Shades of Green:
Shades of Green is an award winning eco-friendly series strictly devoted to advancements in renewable energy and sustainable living. From biodiesel to wind power, Shades of Green gets up close and personal with the people and organizations dedicated to reducing our dependence on foreign oil and creating a sustainable planet.
For more information visit: http://www.dmgproductions.org or call (866) 496-4065.
About DMG Productions:
The DMG production team consists of producers, cameramen and editors that have worked for CNN, TLC, Discovery, and other major news and cable networks. Our staff includes personnel specialized in various fields from agriculture to medicine, independent films to regional news. Our field producers utilize the core concepts from our producers who storyboard our programs, and work closely with experts in the field to develop the educational programs. This powerful force enables us to consistently produce commercial-free, educational programming that both viewers and networks depend on.
Media Contact:
Robert Sikich, Producer / Shades of Green
DMG Productions
(866) 496-4065 x 805 / robert(at)dmgproductions(dot)org