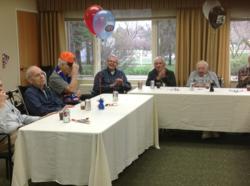 As you get older, giving back enriches your life more and more.
Evanston, IL (PRWEB) April 24, 2013
During National Volunteer Week (April 21-27, 2013) many organizations hold events to thank and appreciate volunteers for their service. Presbyterian Homes is no different and will be thanking some 400 volunteers for more than 32,000 hours of service at its three largest Chicago-area retirement communities this past year. But research shows that people who volunteer may actually receive more benefit from their service than those they serve.
"The Health Benefits of Volunteering," published in 2007 by the Corporation for National and Community Services, Office of Research and Policy Development, reveals that volunteering, especially for older adults, provides a sense of purpose, satisfaction, self esteem, lower levels of depression, social connections, and better health and lower mortality rates.
Volunteering at Presbyterian Homes takes many shapes. Many volunteers serve residents in health care or assisted living directly as medical companions, by paying friendly visits, helping with transportation or delivering their mail. Others choose to donate time working in a campus store, gift shop or greenhouse, which are frequented by residents. Volunteers are both residents themselves and members of the local community.
"People who volunteer want to make a connection and be of service," says Pat Fiorio, director of volunteer services at Westminster Place in Evanston, IL. "We do our best to match a volunteer's interests and abilities with our areas of need to help make a connection that is long lasting and most rewarding."
Betty Madsen, volunteers at Westminster Place most often as a medical companion for residents in assisted living. "A trip to a medical appointment can mean lot of waiting and anxiety about a procedure or having to remember a lot of instructions," says Ms. Madsen. "Having someone with you is very comforting. I feel useful and get a lot of satisfaction and fulfillment out of helping someone," says Ms. Madsen.
When Jane Lionberger retired, she wanted to find a place to be of service and volunteered to help residents in skilled nursing care at Westminster Place with their menus. "Discussing menu items begins a conversation. I spend time with each person, getting to know them, listening and creating relationships," says Ms. Lionberger. "Volunteering gives me a sense of meaning and purpose. As you get older, giving back enriches your life more and more."
Several men from independent living at The Moorings of Arlington Heights volunteer at the monthly Men's Club dinner for residents in health care. Other volunteers come from the surrounding community to help with jewelry making groups, to play bridge and help with the popcorn on movie nights.
Bill Dillon, a resident in independent living at The Moorings of Arlington Heights, says about his volunteer work at the Men's Club dinner: "We're on this earth to help each other, and I find it wonderful to get to know these guys. I get a big kick out of it. We help anyone with physical limitations get to the dining room. We listen, share stories. Each meeting has a theme. One of the most fun was dividing up the room between Cubs and White Sox fans and holding a trivia contest. Then you saw some sparks fly!"
Lake Forest Place resident Ray Western volunteers by playing bridge every week with residents who live in memory care. He says, "It's fun and I see how much satisfaction they get out of playing. Some used to be very good bridge players, but their memory comes and goes, so we don't always play by the rules. But I see how much satisfaction they get out of playing, and I feel a sense of satisfaction from that as well."
"The Health Benefits of Volunteering" also reports that there is a "volunteering threshold" of a one to two-hour per week average commitment to service that allows older adults to achieve the significant health benefits of volunteering.
ABOUT PRESBYTERIAN HOMES
Founded in 1904, Presbyterian Homes is a not-for-profit, faith-based organization with a national reputation for creating extraordinary retirement communities. Presbyterian Homes serves older adults through its residential and healthcare programs on campuses in Evanston, Lake Forest and Arlington Heights and Chicago, Illinois. The organization is accredited by the CARF/CCAC, the nation's only accrediting body for retirement communities. To find out more about Presbyterian Homes, go to http://www.presbyterianhomes.org