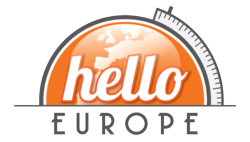 We thought, wouldn't it be great if we could find the best buskers in different cities and provide a public viewing source to expose their work? Thus, Hello Europe.
Lisbon, Portugal (PRWEB) April 23, 2013
Hello Europe is a cultural adventure project about three friends' journey spending 100 days in an RV in hopes of finding the best European city buskers. Founders Guilherme, Ivo, and João, will travel through twenty-four European cities discovering the buskers that best represent the culture of their city through their art. The most talented street performer(s) of each city will be rewarded with a prize and their work will be exposed to the world. To raise the money for their adventure, the trio has turned to crowdfunding site Indiegogo to fund their journey.
Crowdfunding sites, like Indiegogo, have become the go-to for artists to promote their work. Overall, these art and culture projects are popular for attracting backers to provide funding. Since the ultimate goal of Hello Europe is to help expose up and coming street artists, Indiegogo is the perfect way to gain backers and followers for their travels around Europe.
"With so much undiscovered talent that exists on European city streets," says Hello Europe co-founder Guilherme Duarte, "We thought, wouldn't it be great if we could find the best buskers in different cities and provide a public viewing source to expose their work? Thus, Hello Europe."
The trio will travel to 24 cities around Europe unearthing the best buskers. Buskers are the talented street artists that infuse the sound, color, and life of a city into their sketches, paintings, acting performances, or music. The Hello Europe founders will then promote the top 3 buskers of each of city via a short video that features an interview with each street artist and their work, and share it on social media for followers to vote on. The most popular artist will receive a prize and more visibility. The trio's main goal is to spread art and culture by displaying incredible street art for all to see. By keeping track of the three friends' adventure, followers located around the world will be transported to European cities through the busker's work that captures the essence of the city.
The $30,000 Hello Europe hopes to raise in the Indiegogo campaign will go towards some travel expenses and the prizes the three friends will offer the best busker of each European city. Funds will also go towards producing a documentary about the history of busking, and the potential influence street artists can have on the culture and tourism of a city. Starting today, Tuesday April 23rd, until June 22nd, Hello Europe will offer backers the rare opportunity to fund more than one artist with their pledge. Your money will go towards changing the lives of 24 struggling street performers, project logistics, and funding the production of the busking documentary. Head to the Hello Europe Indiegogo page to back the adventure. Also be sure to connect with Hello Europe on Facebook and Twitter @HelloEuropeProj.
About Hello Europe
The Hello Europe project was created by a group of three friends from Portugal who want to do something different. They have all known each other for more than 25 years, and share many interests like traveling, taking photographs, meeting new people and sharing their stories. During the Hello Europe project, they will embark on an amazing adventure to create a chain of emotions. They'll travel around Europe for 100 days in an RV, visiting more than 20 countries with a main goal: find the best street performers of each city, and help them out by giving them some visibility, and spreading out the word about how amazing they are. The best in each city will receive a prize from the group. To learn more about Hello Europe, visit their Facebook page or follow them on Twitter @HelloEuropeProj.