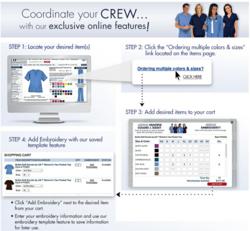 Plantation, FL (PRWEB) April 24, 2013
Uniform Advantage recently added group ordering functionality to their website's product pages for those customers looking to expediently order scrubs for multiple people at one time.
This website feature was added to simplify the group order process for those medical professionals looking to coordinate medical uniform orders for their entire staff. The group ordering functionality is available for all items carried on the Uniform Advantage site including UA exclusive Butter-Soft Scrubs by UA™ and UA® Best Buy Scrubs, along with shoes and accessories. All website items were included to completely alleviate the stress of placing an order for a medical office or hospital floor.
By clicking the "Ordering multiple colors & sizes" button on the item's product page, customers can easily add various colors, sizes, and quantity of each particular item. Once all of the specified products are added to the online shopping cart, customers have the option to "add embroidery" to each individual item in their cart. Once the embroidery information is entered once, it can be saved for future use to further expedite subsequent orders.
For more information about the newly added online group ordering functionality, please visit Uniform Advantage, the number one place for Scrubs and all of your nursing uniform needs, at http://www.UniformAdvantage.com.
About Uniform Advantage
Uniform Advantage is a leading retailer of scrubs and medical uniforms. Founded in 1985, the company operates out of Plantation, Florida and ships from their distribution center near Atlanta, Georgia. It has grown to include 29 scrubs stores located in key cities across the US and Canada, a catalog division and an entity dedicated to the online market.
For more information and to view their garments, visit the Uniform Advantage web site at http://www.UniformAdvantage.com or call 800-283-8708.