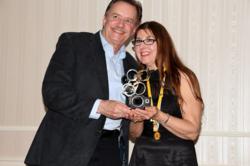 It's an honor to be part of the awards ceremony honoring professional photographic talent at the state and national levels of PPA chapters.
Traverse City, MI (PRWEB) April 25, 2013
In the offices of MorePhotos, every day is earth day. This is the inspiration behind re-purposing unused film cameras to create unique trophies. It is a shame when beautiful old cameras sit in closets and collect dust. In addition, the intricate gears and innards go unappreciated. Photographers love the trophies that offer artwork that is 100% unique to their studio. They also offer a sense of nostalgia. A trophy might be created from an old Canon EX Auto that might have been someone's first camera. Looking at that camera reminds them of all the blood, sweat, and tears earned as they honed their craft of photography.
MorePhotos' CEO Michael Connors was at TJ's Studio and saw him creating trophies out of old car parts. The amount of talent and creativity was unbelievable and a light bulb went off. We can do something will all those old film cameras we see at garage sales and donated to us by our photographers. After bouncing the idea off a few local PPA associations and our photographers, we knew it would be a huge hit. We often hear "How can I get one of those?" Right now they have to be earned.
Terry Blain took home the hardware from the Professional Photographers' Association of Pennsylvania last week. She earned the "Imager of the Year Trophy" at the awards banquet.
MorePhotos.com has been helping pro photographers sell photos online for over 13 years. Their online photo proofing system can plug into your existing website and they also provide websites if needed. With over 200 features, their photo cart is the arguably the most powerful on the market.