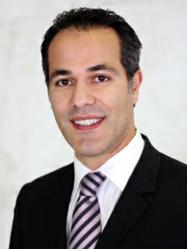 The PROPEL implant is a dissolvable stent, which expands to prop open the sinus after surgery and continually delivers anti-inflammatory medication directly to the sinus lining.
Beverly Hills, CA (PRWEB) April 24, 2013
For years, patients who have undergone endoscopic sinus surgery to treat chronic sinusitis have faced the risk of recurrent symptoms and additional procedures. But all of that is about to change at La Peer Health Systems, where an innovative device is being used to dramatically improve the outcome of sinus surgery.
Mani Zadeh, MD, a Beverly Hills otolaryngologist at La Peer Health Systems, is among the first physicians in the country to use the PROPEL™ device to perform sinus implants on an outpatient basis. According to Dr. Zadeh, this procedure can provide sustainable relief from chronic sinusitis and reduce the need for revisional surgery.
"The PROPEL implant is a dissolvable stent, which expands to prop open the sinus after surgery and continually delivers anti-inflammatory medication directly to the sinus lining," explained Dr. Zadeh. "This helps to counteract the gradual inflammation and scarring of sinus passageways that often follows traditional sinus surgery."
Sinusitis, a condition affecting over 30 million people in the U.S., is characterized by swelling and inflammation of the sinuses. Individuals with chronic sinusitis may experience difficulty breathing, facial pain or headache, and reduced sense of smell and taste.
"Antibiotics and anti-inflammatory medications are typically the first line of treatment for patients with sinusitis," said Dr. Zadeh. "Endoscopic sinus surgery with the PROPEL implant is a safe and effective option when symptoms fail to respond to medication."
The goal of surgical treatment for chronic sinusitis is to enlarge the inflamed or obstructed sinus passageways. As an outpatient procedure, patients can return home the same day of receiving the PROPEL implant with reduced post-operative pain and immediate relief from their symptoms.
"It's incredibly fulfilling to see patients come in to this procedure and walk out shortly after essentially revitalized, without the extreme headaches or difficulty breathing that had been plaguing them for months or even years," said Dr. Zadeh.
Mani H. Zadeh, MD, is a board-certified otolaryngologist – head and neck surgeon in Beverly Hills. After receiving his medical degree from University of California, San Diego, Dr. Zadeh underwent residency training in otolaryngology at the prestigious Columbia University in New York. He specializes in disorders of the ear, nose, and throat, including the advanced treatment of sinus conditions. To learn more, visit http://www.zadehmd.com/.
In addition to his private practice, Dr. Zadeh performs a variety of outpatient procedures at La Peer Health Systems. La Peer Health Systems is an outpatient surgery center in Beverly Hills, founded by doctors and focused on providing excellent patient care alongside the most cutting-edge medical treatments available. With 47 world-renowned physicians in 13 specialties, we offer comprehensive medical treatment that takes patients from consultation to diagnosis, treatment, surgery, and ultimately aftercare. Our 13 medical departments include orthopedics & sports medicine, gastroenterology, head & neck surgery, colorectal & general surgery, podiatry, ophthalmology, pain management, plastics & reconstructive surgery, gynecology, spine surgery, interventional cardiology, bariatric surgery, and anesthesiology. Unlike large hospitals, La Peer's unique structure offers extremely personal care in a safe and controlled environment.
More information about La Peer Health Systems can be found at http://www.LaPeerHealth.com.