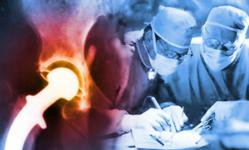 To discuss a potential DePuy Pinnacle Hip replacement lawsuit claim with one of the compassionate DePuy lawyers at Alonso Krangle LLP, please contact us at 1-800-403-6191 or visit our website, www.FightForVictims.com

New York, NY (PRWEB) April 23, 2013
The defective medical device lawyers at Alonso Krangle have recently filed a DePuy Pinnacle Hip replacement lawsuit against DePuy Orthopaedics, Inc., a Johnson & Johnson company, on behalf of a Virginia man. This case (case no. 3:13-cv-01468), which is part of MDL 2244, was filed on April 15, 2013 and will be litigated in the U.S. District Court of Texas, Dallas Division. According to court documents, this DePuy Pinnacle Hip replacement lawsuit alleges that DePuy did not sufficiently test the safety of the Pinnacle Hip system's metal-on-metal design and that DePuy failed to warn the public about the high risk of the system failing even after it had received hundreds of patient reports regarding Pinnacle Hip defects. (In re: DePuy Orthopaedics, Inc. Pinnacle Hip Implant Products Liability Litigation - MDL No. 2244)
Alonso Krangle's experienced DePuy Pinnacle Hip replacement lawsuit attorneys are dedicated to standing up for victims' rights and holding even the largest corporations accountable for their potentially dangerous devices. Alonso Krangle offers free DePuy Pinnacle Hip replacement lawsuit evaluations to those who have sustained serious injuries that could be linked to DePuy's Pinnacle Hip. To discuss a potential DePuy Pinnacle Hip replacement lawsuit claim with one of the compassionate DePuy lawyers at Alonso Krangle LLP, please contact us at 1-800-403-6191 or visit our website, http://www.FightForVictims.com
The DePuy Pinnacle Hip replacement lawsuit explains that the plaintiff underwent a total hip replacement surgery on his right and left hips in January and April 2007, respectively. In both surgeries, a DePuy Pinnacle Hip was implanted. Following both surgeries, the plaintiff began experiencing complications that included severe pain, discomfort, inflammation and difficulty walking. Due to the persistence of these painful symptoms, in September 2012, the plaintiff had his blood tested for metal ions, and the results indicated elevated levels of chromium and cobalt in the plaintiff's blood. As a result, in December 2012, the plaintiff underwent painful and risky revision surgery to replace the failed DePuy Pinnacle Hip in his left hip. While the plaintiff was scheduled to undergo revision surgery on his right hip in April 2013, complications with his left hip revision surgery reportedly necessitated postponing this second revision surgery until September 2013.
Court documents in the DePuy Pinnacle Hip replacement lawsuit allege that having to go through revision surgery has increased the plaintiff's risk of other serious complications, as several studies have shown that having one revision surgery increases the risk of dislocation when compared with only having one hip replacement surgery. Specifically, a study from Brigham and Women's Hospital in Boston found that more than 14 percent of patients who had hip revision surgery suffered from subsequent dislocations, as compared with only about 4 percent of patients who had only undergone a single hip replacement surgery. (http://75.126.16.128/data/Journals/JBJS/852/JBJA085010020.pdf)
DePuy Pinnacle Hip replacement lawsuit : Was DePuy Fully Aware Of Alleged Defects?
According to the DePuy Pinnacle Hip replacement lawsuit complaint, by the time DePuy sold the Pinnacle Hip to the plaintiff in 2007, DePuy was or should have been fully aware that the Pinnacle Hip was defective and that several patients had already been injured by the system's defects. In fact, this case alleges that DePuy was aware of reports of Pinnacle Hip implant failures as early as 2005; while the number of reports regarding failed Pinnacle Hip implants had climbed to 430 and then to 750 in 2008 and 2009 (respectively), to date, DePuy has reportedly received more than 1,300 reports of DePuy Pinnacle Hip system failures and complications. Despite reports of Pinnacle Hip failures, the DePuy Pinnacle Hip replacement lawsuit complaint points out that DePuy has continued to sell the defective hip implant without any warnings and, in so doing, has actively concealed the implant's known defects from the public.
(http://www.bbc.co.uk/news/health-17192520)
(fda.gov/MedicalDevices/ProductsandMedicalProcedures/DeviceApprovalsandClearances/Recently-ApprovedDevices/ucm259264.htm)
(fda.gov/MedicalDevices/ProductsandMedicalProcedures/ImplantsandProsthetics/MetalonMetalHipImplants/ucm241604.htm)
(thelancet.com/journals/lancet/article/PIIS0140-6736%2812%2960353-5/fulltext;bmj.com/content/344/bmj.e1410)
(arthroplastyjournal.org/article/S0883-5403%2812%2900175-1/abstract)
(edition.cnn.com/2011/10/28/health/alignment-hip-replacements-pack/index.html?eref=rss_health&utm_source=feedburner&utm_medium=feed&utm_campaign=Feed%3A+rss%2Fcnn_health+%28RSS%3A+Health%29)
About Alonso Krangle LLP and Filing a DePuy Pinnacle Hip replacement lawsuit
Andres Alonso and David Krangle, attorneys with almost 40 years of collective legal experience, have focused their law practice on handling significant personal injury cases, defective drug and medical device litigation, construction site accidents, nursing home abuse, medical negligence, qui tam/whistleblower actions and consumer fraud cases. Alonso Krangle LLP is headquartered in Long Island, New York, with offices in New York City, and New Jersey. To discuss a potential DePuy Pinnacle Hip replacement lawsuit claim with one of the compassionate DePuy lawyers at Alonso Krangle LLP, please contact us at 1-800-403-6191 or visit our website, http://www.FightForVictims.com
For more information about Alonso Krangle or to join the fight and be a part of our team, please contact us at 1-800-403-6191 or visit our website, FightForVictims.com.
Alonso Krangle LLP
445 Broad Hollow Road
Suite 205
Melville, New York 11747
Toll-FREE 1-800-403-6191
Tel: 516-350-5555
Fax: 516-350-5554