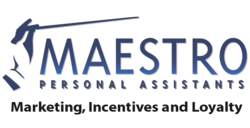 Maestro is hiring more call agents as part of our ongoing commitment to provide clients with the best branded personal assistance and concierge service available.
Dallas, Texas (PRWEB) April 25, 2013
At a time when the country is faced with record unemployment, Maestro Personal Assistants, a Dallas-based marketing and loyalty company, announced it is hiring new call center agents to join its professional personal assistance team. Due to an increasing client demand for its branded personal assistance service, Maestro recently expanded its international call center. The company also doubled the number of call agents and continues to hire more every week.
"Maestro has experienced substantial growth in the past few years," said Adam Alfia, Maestro's Managing Director. "In fact, we're one of the 50 fastest growing companies in North Texas. Now we're searching for more exceptional people to join our team. Its part of our ongoing commitment to provide our Fortune 500 and other prestigious clients with the best service available."
For almost a decade, Maestro has been providing companies in the U.S and Canada with high-impact marketing and loyalty programs that offer a unique customer incentive: cell phone access to a live personal assistance and concierge service branded in the companies' names. The way the 24/7 white-label service works is simple. When a company's customer calls a dedicated toll-free number, a member of Maestro's personal assistance team welcomes them by name, followed by a customized greeting from the company. After the caller receives help with any question or task they need, they'll hear the company's name again with its tagline, slogan or other message.
"Personal assistance is much more than a job," added Mr. Alfia. "It's taking care of people's needs and making a positive difference in their lives. Our call center is located in our Dallas headquarters, and everyone knows everything is bigger in Texas. That's especially true of the personal service. Every member of our personal assistance and concierge team is an expert at helping callers with Anything, Anytime, Anywhere®. They'll also work diligently to represent our clients in the most professional manner possible. That's why call agent candidates undergo a multi-layered screening and training process to guarantee they'll be extremely courteous and extraordinarily efficient."
To learn about Maestro's branded personal assistance programs, call 888-500-1411. For current career opportunities as a call agent, visit personalassistants.com or send your resume to jobs(at)maestros(dot)com. Maestro is currently seeking English monolingual and French/English bilinguals.
ABOUT MAESTRO PERSONAL ASSISTANTS
Based in Dallas, Texas, Maestro has been providing affordable branded personal assistance-based marketing and loyalty programs for any kind of company in every industry for almost a decade.
# # #