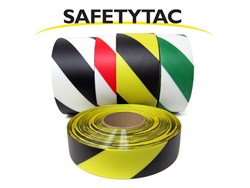 "We use the hazard tape when repairs are required around electrical equipment and machinery. It is easy to install and when the job is complete, the tape is quickly removed."
Lake Oswego, OR (PRWEB) April 25, 2013
SafetyTac Hazard floor marking tape is the perfect solution for almost any floor marking project where safety is critical. Facilityfloormarking.com is now offering SafetyTac Hazard Tape for any business that wants to improve or create a safer work environment.
Hazard tapes are primarily used to warn people that there is a potential threat for safety, or to preserve the condition of a specific area. When areas need to be closed off, hazard tape is a great solution to minimize or eliminate the dangers that people can face. The highly contrasting color combinations are easily seen to prevent someone from entering a potential dangerous zone.
SafetyTac tape is made of durable material with a thinner profile and strong adhesive making it ideal for high forklift and truck traffic conditions. SafetyTac is 100% smear and scuff resistant even under the harshest working environments. In the past, paint was used as a way to warn of potential hazard areas. But it was quickly realized that paint requires dry time and cure time with messy clean ups that reduced productivity. Floor tape is simple and easy to apply with the peel-&-stick installation and is easily removed without using harsh chemicals that could potentially damage floors.
Another common and popular usage for SafetyTac Hazard tape is marking electrical panels to shut off electricity. When there is an emergency, quick response is critical to prevent injuries and possible death.
As one maintenance worker commented, "We use the hazard tape when repairs are required around electrical equipment and machinery. It is easy to install and when the job is complete, the tape is quickly removed."
For more information about SafetyTac Hazard Tape, please visit http://www.facilityfloormarking.com/ or call toll-free (866)777-1360 to speak with a professional representative.