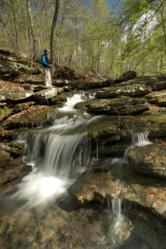 Hurry! This easy-to-enter contest ends Friday, April 26!
Little Rock, AR (PRWEB) April 24, 2013
Want to get away from it all? The Arkansas Department of Parks and Tourism has launched a new online contest that allows participants to "create their escape" to The Natural State and potentially win a three-day, two-night trip.
Through Friday, April 26, the "Create Your Escape" contest provides potential Arkansas travelers with the opportunity to visit Arkansas.com/escape and use the website's "Trip Planner" feature to build their ideal Arkansas vacation. Visitors can explore all the great getaway options in Arkansas – from relaxing spas and top-rated restaurants to mountain resorts to crystal-clear lakes – and then put together their weekend plan, from lodging to dining and family fun activities. They can even check out great, "point-of-view" videos that allow them to "feel" what it's like to enjoy exciting Arkansas activities.
Once participants enter their trip through the website, they can then share their itinerary through certain social media channels and increase their chance of winning. The winner will receive the trip that they enter in the contest, and the winning entry will be drawn and announced on Monday, April 29th.
For complete rules, entry and additional information, visit http://www.arkansas.com/escape.