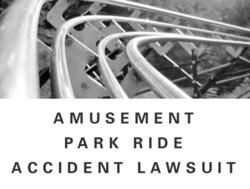 To discuss filing a amusement park ride accident lawsuit on behalf of your child with one of the experienced and compassionate child injury lawyers at Alonso Krangle LLP, please contact us at 1-800-403-6191 or visit our website, FightForVictims.com
New York, NY (PRWEB) April 28, 2013
Alonso Krangle LLP, an experienced child product liability injury law firm, announces they have filed suit against the Jiminy Peak Mountain resort in Hancock, MA, following an accident in August 2012 involving the resort's "Mountain Coaster" amusement ride that allegedly left an 8-year-old Long Island girl with catastrophic injuries. According to the amusement park ride accident lawsuit complaint, the child, along with her 15-year-old sister, was partially ejected from the Coaster, allegedly due to the negligence of the Defendants. The amusement park ride accident lawsuit, which was filed on April 16, 2013 in U.S. District Court, Eastern District of New York, seeks both compensatory and punitive damages from Jiminy Peak Mountain Resort, LLC and Wiegand Sports, LLC., the designer and marketer of the Mountain Coaster. (Case No. 2:13-cv-02278-ADS-ARL)
The Mountain Coaster, also known as the Alpine Coaster, is an amusement ride that consists of tubular steel rails upon which small cars known as "coasterbobs" ride. According to the amusement park ride accident lawsuit complaint, the cars are propelled by gravity down a winding path that is designed to follow the topography of the area. The rider in the rear of the coasterbob has some control over the speed of the car via the control of brake handles on either side of the car. The rear rider is provided with a seatbelt that consists of both a shoulder and lap belt, while the front passenger is provided with only a lap belt.
The amusement park ride accident lawsuit alleges that the seatbelts on the Mountain Coaster have been woefully inadequate, resulting in injuries to many people who have been partially ejected by the ride. The amusement park ride accident lawsuit complaint further alleges that the Mountain Coaster has been responsible for numerous serious, and in some instances, life-threatening injuries since being introduced by Wiegand Sports, including injuries to more than 50 riders at a single amusement park in Europe. Among other things, the amusement park ride accident lawsuit complaint accuses Jiminy Peak Mountain Resort of failing to be properly vigilant in ensuring that the riders of Mountain Coaster would be properly secured.
Amusement Park Safety & Amusement Park Ride Accidents
According to data from the U.S. Consumer Products Safety Commission (CPSC), accidents involving amusement rides at theme parks and carnivals cause more than 6,000 injuries per year. While the CPSC is responsible for regulating how amusement rides are manufactured, there is no federal oversight of their maintenance and operation. That task is left up to the states, and regulation varies widely. According to a recent report from USA Today, only 24 states have comprehensive government inspection and accident investigation programs for amusement rides. At the other end of the spectrum, six states — Alabama, Mississippi, Montana, Nevada, Utah and Wyoming — have no regulations on amusement ride.
[cpsc.gov/PageFiles/109242/Amus2005.pdf]
[http://usatoday30.usatoday.com/news/nation/2011-08-09-carnival-rides-safety-state-laws_n.htm
Fortunately, according to Alonso Krangle LLP, there are some steps parents and caregivers can take to help ensure children stay safe at the amusement park:

Use sound judgment when selecting an amusement ride for your child to ride on.
Observe amusement rides first before allowing your child to board.
Don't take children on rides that frighten them.
Remind your child – repeatedly – to keep their hands inside the ride, and to use all provided
safety equipment.

Trust your instincts. Don't allow your child on an amusement ride if its appearance or sound
leads you to believe it may be old or run down.
Filing An Amusement Park Ride Accident Lawsuit
Alonso Krangle LLP offers free legal consultations to families whose children have been injured due to the negligence of others, including those who have been hurt on amusement rides at theme parks or carnivals. To discuss filing a amusement park ride accident lawsuit on behalf of your child with one of the experienced and compassionate child injury lawyers at Alonso Krangle LLP, please contact us at 1-800-403-6191 or visit our website, http://www.FightForVictims.com
About Alonso Krangle LLP
Andres Alonso and David Krangle, attorneys with almost 40 years of collective legal experience, have focused their law practice on the handling of significant personal injury cases, defective drug and medical device litigation, construction site accidents, nursing home abuse, medical negligence, qui tam/whistleblower actions and consumer fraud cases. A nationwide law firm representing injured victims throughout the U.S., Alonso Krangle LLP is headquartered in Long Island, New York, with offices in New York City, and New Jersey. To discuss filing a amusement park ride accident lawsuit on behalf of your child with one of the experienced and compassionate child injury lawyers at Alonso Krangle LLP, please contact us at 1-800-403-6191 or visit our website, http://www.FightForVictims.com
For more information about Alonso Krangle or to join the fight and be a part of our team, please contact us at 1-800-403-6191 or visit our website, http://www.FightForVictims.com
Contact:
Alonso Krangle LLP
445 Broad Hollow Road
Suite 205
Melville, New York 11747
Toll-FREE 1-800-403-6191
Tel: 516-350-5555
Fax: 516-350-5554