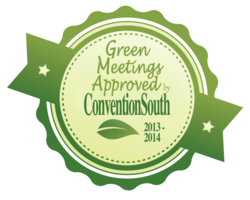 Hyatt Regency Coconut Point was the first hotel to receive Florida Green Lodging's prestigious Three Palm certification for its eco-friendly efforts and has been raising the bar higher ever since.
BONITA SPRINGS, FL (PRWEB) April 25, 2013
The recently renovated Hyatt Regency Coconut Point Resort & Spa in Bonita Springs, Florida, has been recognized as "Green Meetings Approved" for 2013 - 2014 by ConventionSouth magazine. Groups and meetings that share this commitment to caring for Mother Earth will not only appreciate the resort's efforts in sustainability but also savings of three percent off their master bill with Hyatt's Meet and Be Green Package.
To receive this discount, planners must follow these 10 simple steps:
1. Provide event orders 10 days in advance to reduce the use of last-minute resources
2. Commit to using recycling bins at all functions, meetings, offices and guest rooms
3. Print locally using a list of recommended environmentally friendly printing services
4. Ship no more than one pallet of materials for each 100 rooms occupied and return no more than a half pallet home
5. Place all meeting materials in a central location so that attendees take only what they need
6. Use reusable bottles and set up conveniently located filtered water stations for refilling
7. Eliminate disposable products at meetings (exceptions: boxed meals and poolside service)
8. Set and maintain the meeting room temperature at an agreed-upon number
9. Use the resort's seasonal banquet menus that feature locally grown and sourced products
10. Use 100 percent recycled paper and other recycled materials for menus and pens
The Meet and Be Green Package is valid for meetings held by December 31, 2013. Additional attractive offers are available to meeting planners that book before June 30, 2013. Planners can also take advantage of Hyatt Gold Passport Planner Rewards to earn points for free nights, future meeting credits and more.
A long-time industry leader in sustainability, Hyatt Regency Coconut Point was the first hotel to receive Florida Green Lodging's prestigious Three Palm certification for its eco-friendly efforts and has been raising the bar higher ever since. The 454-room Bonita Springs resort recently completed a multi-million-dollar room renovation, which included upgrades and modern enhancements that kept the needs of both business travelers and Mother Nature in mind. For example, all rooms are now equipped with "smart," responsive thermostats that help reduce energy expenditure and in-room recycling bins.
Highlights of the resort's other green initiatives include energy-efficient dishwashers and lighting, the use of Florida native plants in landscaping to reduce watering, garbage compacting to reduce overall waste, the use of non-toxic cleaning products, low-flow toilets and showerheads, sensor switches to shut off lights in storage areas, energy recovery units on the roof and recycling in all guest rooms, dining outlets, offices and function spaces, to name a few.
"We are honored to be recognized as a leader in not only hospitality and service but also sustainability," said General Manager Joe Murgalo. "The natural beauty of our surroundings is one of the main reasons planners choose our resort over other meeting venues. Thanks to our ongoing initiatives and ever-continuing developments, we will be able to preserve this breathtaking destination for future generations."
To begin booking a meeting, planners can use the online planner tool or call 239-444-1234.
About Hyatt Regency Coconut Point Resort & Spa
Named among Travel + Leisure's 100 World's Best Hotels, the AAA Four Diamond Hyatt Regency Coconut Point Resort & Spa features world-class golf, the 19,000-square-foot stillwater spa, the AAA Four Diamond-rated Tanglewood restaurant and an extravagant series of water features, including multiple pools ranging from 2,700 to 5,000 square feet and a 140-foot corkscrew slide. The 454-room resort, which recently received Florida Green Lodging's Three Palm eco-friendly certification, is the ideal base camp between Naples and Ft. Myers. Located on 26 acres overlooking the breathtaking Estero Bay Aquatic Preserve, the resort offers convenient access to both destinations as well as a private island beach for a more secluded retreat. A 15-minute water taxi ride takes guests to the resort's private beach on Big Hickory Island. White, soft sand and the brilliantly colored Gulf of Mexico create a restful spot with plenty of open chairs and umbrellas for those looking to relax.
For those guests seeking a more active vacation, the island is a great spot to hunt for sharks' teeth, collect more than 400 types of seashells, build old-fashioned sand castles or kayak along the beautiful shoreline. Back at the resort, guests can relax and rejuvenate with pampering treatments at the Stillwater Spa and enjoy a delectable meal at the Tarpon Bay restaurant, featuring fresh, innovative seafood for a truly memorable meal. For information or reservations visit http://www.coconutpoint.hyatt.com or call 239-444-1234.
# # #