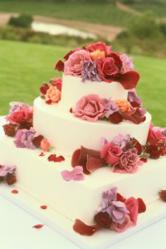 By choosing to stay in a cabin, couples don't have to worry about the expense of multiple hotel rooms and lost reservations
Sevierville Tenn. (PRWEB) April 23, 2013
Looking for the one detail that will make your wedding stand out this season? In 2011, Bridal Guide Magazine announced that 35 percent of couples plan a destination wedding. And according to the Wedding Report, a company focusing on statistics and market trends in the wedding industry, there is a growing interest in couples seeking a more unique setting for their big day. Visit My Smokies encourages couples to consider a wedding in Gatlinburg or Pigeon Forge to fill their nontraditional wedding venue needs.
Though still away from home, couples choosing a Gatlinburg or Pigeon Forge cabin rental enjoy a more intimate atmosphere compared to staying in a hotel room.
"Couples appreciate cabin weddings because it takes out most of the stress, and allows the couple to enjoy time with their friends and family," said Olga Weirbicki, owner of Stellar Wedding services and president of the Smoky Mountain Wedding Association.
"By choosing to stay in a cabin, couples don't have to worry about the expense of multiple hotel rooms and lost reservations," said Weirbicki.
Depending on preference, cabins spaciously sleep anywhere from one to over 13 people. Cabins are also located just a short drive from area attractions like Dixie Stampede, Rainforest Adventures, The Track Family Fun Park and the Titanic Museum.
"Smoky Mountain weddings are perfect for couples with merging households," said Weirbicki.
"Once the ceremony is over, and the guests leave, they can start their first vacation together—as a family."
There are several wedding packages tailored to any budget and guest list.
Visit My Smokies' offers visitors several coupons and attractions on their website.
For couples wanting a more traditional setting for their ceremony, Visit My Smokies lists 45 possible area wedding venues for couples to choose from.
The site also lists roughly 77 businesses dedicated to taking care of every detail to make every ceremony special.
Established in 2009, Visit My Smokies is the premier Great Smoky Mountain destination lodging website. The program is owned by Sevier County, Tenn., and developed to build revenue, through the promotion of travel and tourism, in relation to Gatlinburg, Pigeon Forge and Sevierville area lodging, attractions, dining and shopping. Visit My Smokies is operated by the Sevier County Economic Development Council. All offices are located at: 125 Court Ave., Suite 102 E, Sevierville, TN 37862.
For more information regarding a wedding in the Great Smoky Mountains, contact inquire(at)visitmysmokies(dot)com or link to http://www.visitmysmokies.com or call 1(800) 891-9782.