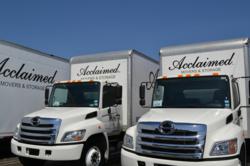 Newport Beach,CA (PRWEB) April 23, 2013
The most trusted, luxury residential and commercial moving company in California, Acclaimed Newport Beach Movers, has just converted all of its trucks to meet the state's strict greenhouse gas emissions regulations. The conversions involved replacing all tires with low rolling resistance tires, as well as adding SmartWay filters to certain model year trucks. Nearly all of Acclaimed's massive fleet of box trucks and tractor trailers were affected by the tightening of emissions regulations, which forced the company to act fast. Now, Acclaimed Movers and Storage is ahead of the competition, having converted its vehicles well in advance of the required date. Acclaimed Newport Beach Movers is a full-service, fully comprehensive, luxury moving company.
For more than a decade, Acclaimed Newport Beach Movers has helped local homes and businesses with moves across the town, across the nation, and across the world. The company excels when working in any environment, including houses, offices, apartments, warehouses, condos, restaurants, and retail facilities. Each of their Newport Beach movers is a uniformed moving expert, who goes through regular training to ensure that they can safely and securely pack and move literally any item. Acclaimed's comprehensive packing service fortifies boxes, and includes the disassembly and reassembly of items that require it, as well as, the creation of custom moving crates for all flat-screen TVs, artwork, antiques, and other valuable or fragile items. All transportation is conducted by the Newport Beach movers' massive fleet of cutting-edge trucks, which come equipped with GPS for efficient navigation and tracking of shipments. If storage is required, Acclaimed has space available for long-term and short-term storage periods in their colossal, climate-controlled, secure storage facility.
Acclaimed Newport Beach Movers provides premium quality services at economical rates, which allows the company to make a lifelong customer out of each person that they help. Quickly, Acclaimed has become synonymous with affordability, efficiency, and reliability in the moving industry. With their newly converted trucks, Acclaimed remains ahead of the competition in providing comprehensive moving solutions for Newport Beach. When it's time to move a home or business, it's time to get a free, no-obligation quote from Acclaimed Newport Beach Movers. We'll get you moving.