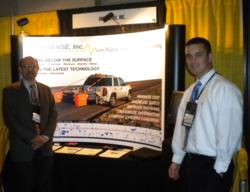 Arlington, MA (PRWEB) April 25, 2013
Infrasense engineers will be attending several transportation infrastructure conferences around the world this spring. Infrasense President, Kenneth Maser, will be presenting two recent projects at the Ninth International Conference on the Bearing Capacity of Roads, Railways and Airfields (BCRRA), being held from June 25-27 in Trondheim, Norway. Infrasense will also be in attendance with a technical display at the Western Bridge Preservation Partnership (WBPP) Meeting, being held May 8-10 in San Diego, California.
Dr. Kenneth Maser, P.E., will be attending the BCCRA conference in Norway to present two technical papers relevant to the bearing capacity of roads and airfield pavements. The first paper, entitled "Use of GPR for Subsurface Pavement Investigations of 23 Airports in South Carolina," describes a recent Infrasense project in which GPR was used to determine pavement thickness of airport runways, taxiways, and aprons. This thickness data was used to supplement falling-weight deflectometer testing (FWD) for pavement classification number (PCN) calculations. GPR is uniquely suited for work on airport facilities; disruption to normal airfield traffic is minimized because vehicle-based GPR surveys are performed at normal driving speed and do not require direct interaction between the operator and the pavement. Additionally, GPR eliminates the need for numerous cores that damage the pavement and require lengthy closures of the facilities being tested.
Infrasense engineer Adam Carmichael will also attend the WBPP Meeting, where we will display the services Infrasense can provide to bridge owners and contractors. Infrasense has participated in previous New England Bridge Preservation Partnership and Midwest Bridge Preservation Partnership Meetings, and anticipates learning more about the bridge preservation programs in the western United States. Having completed bridge deck evaluation projects across the country already, Infrasense will share its expertise in nondestructive testing techniques that can help owners to preserve and maintain their bridge decks.
Northeast and Midwest highway agencies have utilized Ground Penetrating Radar (GPR) for bridge deck condition information. GPR data is collected to estimate rebar depth and identify corrosion and concrete deterioration. The GPR data is collected at highway speeds and requires no lane closures. Decks in good condition consist of strong and uniform radar reflections from the rebar. GPR data with weak and inconsistent reflections indicate rebar-level bridge deck deterioration. This technology is able to estimate the overall quantity of deteriorated concrete for a particular deck structure, as well as provide a plan area map showing the location of the deteriorated areas. Infrasense has performed both project-level and network-level GPR bridge deck surveys. The results yield a quantity of deteriorated area that is used for accurate and cost-efficient rehabilitation planning; this information helps the bridge owners achieve the best possible performance for their decks.
About Infrasense, Inc.
Since 1987, Infrasense, Inc. has applied the most current technologies to the most difficult challenges in subsurface scanning. Infrasense's engineers are able to nondestructively extract critical information from a diverse range of structures. The firm has conducted research to advance the field of subsurface detection, while also providing valuable information to clients across the country. Learn more about Infrasense, Inc. and its services at http://www.infrasense.com.