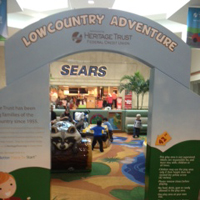 I think that we really did a great job with this play area, giving the community something that they love. That is what people comment on the most. They think it's a pretty special place to bring their children.
Charleston, SC (PRWEB) April 25, 2013
When Citadel Mall removed its older play area in 2008, moms' groups and families drifted away. Leigh Burnett, Marketing Specialist with the property's owner, CBL & Associates, says that families often asked for the amenity.
So, when a sponsor recently stepped up, a new indoor play area was born.
"Now that we have the new play area, we've seen moms' groups come back and families stay longer," says Burnett.
The theme of the new indoor play area is "Lowcountry Adventure," says Burnett, explaining that the Charleston area is called "lowcountry" because it is generally at or near sea level. The play area includes an alligator, a boat, a Jeep and a turtle. The custom-made carpeting includes a beach theme.
"The play area is sponsored by Heritage Trust Federal Credit Union," says Burnett, adding that the credit union also sponsored a play area at nearby Northwoods Mall, also a CBL & Associates property. "Heritage Trust is a very community-minded business. They wanted more outreach in the community and this was a fabulous way to do it. We even incorporated an ATM into the mall as part of the agreement, so they get a lot of bang for their buck."
The play area was designed, manufactured and installed by PLAYTIME, LLC. PLAYTIME is the global provider of unique, interactive, soft play areas and commercial playground equipment for indoor, outdoor and water play.
"The nice thing about this play area is that we did it right," says Burnett. "It is enclosed and themed with nice, padded carpeting and shoe cubbies. I think that we really did a great job with this play area, giving the community something that they love. That is what people comment on the most. They think it's a pretty special place to bring their children."