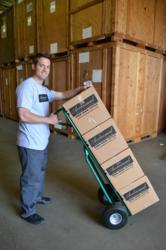 Mission Viejo Movers (PRWEB) April 26, 2013
California's most trusted, luxury residential and commercial moving company, Acclaimed Mission Viejo Movers, has just added new tools in order to provide improved piano moving. The tools, titanium piano tilters, significantly reduce the strain and intensive-labor involved with the transportation of pianos. The titanium piano tilters effectively replace one member of the crew in piano relocations, which improves the efficiency, availability, and affordability of Acclaimed's piano moving services. The addition of new tools comes on the heels of improvements to the company's fleet as Acclaimed actively evolves with the changing moving market. Acclaimed Mission Viejo Movers is a full-service, fully comprehensive, luxury moving company.
Acclaimed Mission Viejo Movers has helped local homes and businesses with moves across the town, across the United States, and even across the world. The company excels in any environment, including with houses, offices, condos, warehouses, apartments, restaurants, and retail facilities. Each of their Mission Viejo movers is a dedicated, uniformed professional, who goes through intensive training to ensure that they can properly wrap, pack, and then move any item. Acclaimed's packing service is perfect for the protection of all belongings, and includes the disassembly and reassembly of large items, as well as, the creation of custom moving crates for all flat-screen TVs, artwork, antiques, and other valuable or fragile items. All transportation is conducted by the Lake Forest movers' growing fleet of top-of-the-line trucks, each of which is equipped with a GPS for efficient navigation. When storage is a necessity, Acclaimed maintains space for long-term and short-term storage in a state-of-the-art, climate-controlled, secure storage facility.
Acclaimed Mission Viejo Movers is committed to making a lifelong customer out of each person that they help, by providing an incredible, economical moving experience. The company has quickly become synonymous with affordability, efficiency, and reliability in the moving industry. With their new titanium piano tilters, Acclaimed is primed to tackle all of Mission Viejo's unique moving needs. When its' time to move a home or business, it's time to get a free, no-obligation quote from the experts at Acclaimed Mission Viejo Movers. We'll get you moving.