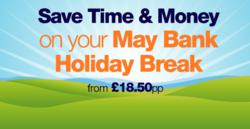 (PRWEB UK) 24 April 2013
Superbreak, the UK's leading short break provider, has launched its latest range of May Bank Holiday breaks offering customers a host of ideas for the forthcoming bank holiday weekend. Building on its already expansive range of hotel breaks across the UK and overseas, the tour operator has also introduced a number of bed & breakfast hotels and guest houses across the Yorkshire Dales and the Lake District to widen its breadth of choice and value to customers.
The tour operators' latest range aims to inspire customers to take a break away this bank holiday and is providing a range of Superbreak city breaks, coastal retreats and experience packages to reach out to a range of ages and interests. In response to the 45 per cent increase in visits to its May Bank holiday page over the past six weeks, Superbreak continues to put customers at the heart of its product offering with the focus for this year on added value offers.
Whether customers want to explore the best of the British countryside with dinner, afternoon tea and attraction ticket, experience London with a Harrods Champagne Tea & Tour break or jet off to Paris and enjoy a free Seine river cruise, the tour operator's range of extras continues to offer customers access to new destinations and cultures regardless of budget.
Superbreak are also delighted to offer a range of newer range of experience packages for 2013, which include three star family hotel breaks with free BeWILDerwood forest adventure tickets, four star wine tasting tours at the Denbies Wine Estate, Ballroom dancing breaks in Manchester and Peak District stays with Chatsworth House tickets with dinner included.
Last year, online sales for the May bank holiday weekend included popular UK break destinations such as Edinburgh, London, York and Stratford-upon-Avon. Booking trends for 2013 show a far great mix of both UK and European destinations, with online revenue growth reported across Paris and Amsterdam, as well as smaller UK cities including Newcastle and Harrogate.
Khalid Amin, Online Marketing Manager at Superbreak, commented: "This May Bank Holiday, we've seen our customers continue to search for great value packages allowing them to save both time and money in their quest for the perfect Bank Holiday package. This search for value is also extending into Europe with our Eurostar Breaks with a free Seine River cruise proving particularly popular this Spring."
About Superbreak:
Superbreak is the internet division of Superbreak Mini Holidays Limited, the market leader for short breaks and hotels throughout the UK and beyond, including hotels in Manchester and London to Paris and even Dubai. Superbreak is part of Holiday Break plc. Based in York, England, Superbreak specialises in booking city breaks in two-five star hotel accommodation throughout Britain for the leisure traveller. Superbreak also work with various travel providers offering a range of London breaks by rail, P&O mini cruise breaks, flights and more.
With 5000 plus hotel partners in worldwide locations from Manchester to Brighton, from London to Paris and with great availability and rates for theatre breaks, events at the O2 Arena, various popular attractions and national and international rail partners, Superbreak can offer an outstanding depth and breadth of UK and Overseas short break products.
We authorise the republication of this content with the condition that a link to Superbreak is included: http://www.superbreak.com.