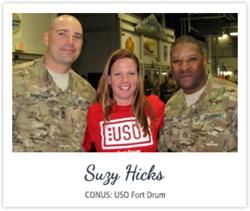 USO Volunteers enable us to operate with the scope, scale, presence and reach to deliver programs and services in support of our troops and military families at a global level.
Arlington, VA (PRWEB) April 23, 2013
In a week where people are recognized across the nation for doing extraordinary things through service, the USO will honor and celebrate a global volunteer force of more than 27,000 individuals. National Volunteer Week, celebrated April 21-27, provides the USO with an opportunity to recognize who are always by the side of America's troops and military families. USO volunteers are of the cornerstone of the organization and without their time, hard work and dedication the USO would not be able to adapt to meet the ever changing needs of our troops and families.
"USO volunteers enable us to operate with the scope, scale, presence and reach to deliver programs and services in support of our troops and military families at a global level," said Betsy McWhirt, Director of Volunteer Services for the USO. "Last year our volunteers gave more than 1.35 million hours of service at more than 160 locations worldwide."
In a second annual survey, the USO found the volunteer force vary greatly in age and military affiliation, however, overwhelmingly volunteers worldwide cite "interaction with troops and their families" as their greatest reward. The survey also showed an overwhelming support and understanding of the USO's mission: to support America's troops and their families.
Throughout National Volunteer Week the USO Blog will feature posts written by volunteers ranging in topics, but focusing on the time they have spent in support of troops and military families around the globe. USO volunteers provide valuable services like helping troops navigate the airport, cooking and serving dinners to recovering wounded warriors, and providing activities for military children. Many volunteers were inspired to give their time to the USO because they have a close friend or family member serving in the military or they are active duty and want to give back to support their fellow service members.
In addition to http://blog.uso.org, USO centers across the globe will host celebrations honoring their local volunteer force. The winners of the Volunteer of the Quarter will also be announced during National Volunteer Week. The USO recognizes volunteers on a global level with this annual recognition program. Quarterly nominees are submitted by USO centers and winners are chosen from each of the USO's four geographic regions (U.S., Europe, Pacific, Southwest Asia). From the quarterly honorees a USO Volunteer of the Year is chosen and recognized every fall at the USO Gala held in Washington, D.C.
Individuals and groups who are interested in getting involved with the USO are encouraged to visit their local center or http://www.usovolunteer.org for opportunities in their area. Volunteers who would like to share their story with the USO can email stories(at)uso(dot)org.
###
About the USO
The USO (United Service Organizations) lifts the spirits of America's troops and their families millions of times each year at hundreds of places worldwide. We provide a touch of home through centers at airports and military bases in the U.S. and abroad, top quality entertainment and innovative programs and services. We also provide critical support to those who need us most, including forward-deployed troops, military families, wounded warriors and their families and the families of the fallen.
The USO is a private, nonprofit organization, not a government agency. All of our programs and services are made possible by the American people, support of our corporate partners and the dedication of our volunteers and staff. In addition to individual donors and corporate sponsors, the USO is supported by President's Circle Partners: American Airlines, AT&T, Clear Channel, The Coca-Cola Company, jcpenney, Kangaroo Express, Kroger, Lowe's, Northrop Grumman Corporation, Procter & Gamble, and TriWest Healthcare Alliance and Worldwide Strategic Partners: BAE Systems, The Boeing Company, Lockheed Martin, Microsoft Corporation and TKS Telepost Kabel-Service Kaiserslautern GmbH & Co. KG. We are also supported through the United Way and Combined Federal Campaign (CFC-11381). To join us in this patriotic mission, and to learn more about the USO, please visit uso.org.