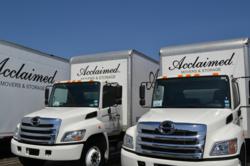 Santa Margarita, California (PRWEB) April 28, 2013
Southern California's residential and commercial moving expert, Acclaimed Rancho Santa Margarita Movers, has just added reusable picture crates to its available materials in a move that will reduce costs for consumers. The reusable crates, which provide the maximum amount of protection for pictures, paintings, and flat-screen TVs, will be available for all local and long distance moves. The reduction in costs will come from the fact that the crates can be used, and then returned when the move is completed rather than purchased outright. Acclaimed continues to aggressively evolve and improve in the pursuit of providing the perfect moving solutions for Southern California. Acclaimed Rancho Santa Margarita Movers is a full-service, fully comprehensive, luxury moving company.
For more than ten years Acclaimed Rancho Santa Margarita Movers has helped homes and businesses make moves across the street, across the United States, and across the globe. The company has extensive experience with houses, warehouses, apartments, offices, restaurants, condos, retail facilities and more. Each of their Rancho Santa Margarita movers is a seasoned, uniformed professional, who goes through regular training to ensure that they can correctly wrap, pack, and then move any item. With the Acclaimed packing service, boxes are fortified for the transition, large items are disassembled and reassembled, and custom moving crates are used for the protection of flat-screen TVs, electronics, artwork, antiques, and other delicate or valuable items. Safe transportation is made certain by the fact that the Rancho Santa Margarita movers use only cutting-edge trucks from Acclaimed's expansive fleet, and each truck runs on bio-diesel fuel. When storage is a necessity, space is available for long-term and short-term periods in the company's enormous, climate-controlled, secure storage facility.
Acclaimed Rancho Santa Margarita Movers remains committed to making a lifelong customer out of each person that they help. With top quality services, the company has quickly become synonymous with affordability, efficiency, and reliability in the moving industry. The addition of reusable picture crates allows Acclaimed to provide fully comprehensive moving solutions for the community. When it's time to move a home or business, it's time to get a free, no-obligation quote from Acclaimed Rancho Santa Margarita Movers. Find a Mover then link to Acclaimed Rancho Santa Margarita Movers.