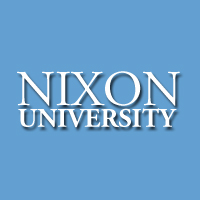 Detroit, MI (PRWEB) April 24, 2013
To keep tuition from spiraling too high and allow students to derive greater value for their dollars spent on education there has been a shift towards introducing aid programs to spread higher education. Nixon University has announced that it will be re working its student aid program keeping in mind the changing environment for education. The added funds reserved for the program have been released by the finance department for further distribution.
According to the facts provided by the cell responsible for data keeping on literacy rates, the number of people who complete their high school but do not get the chance to complete their higher education is rising. The main reason for this has been found to be the rising expenses and increasing demands of employers to spend more time at work. This has caused many professionals to drop their aspiration of continuing their education while they hold a job.
In the recent board meeting, the University's Dean Mark Shelburne expressed his commitment towards the program,
"Education is not a luxury, it is the prime right of each and every individual, and no policy or practice shall make it difficult for knowledge seekers to gain knowledge, Nixon University will set a standard for its partners and others to follow in this regard."
The Dean's statement was directed towards the federal government, states, colleges, and universities since they all have a role to play in making higher education more affordable and attainable.
It is not enough to increase federal student aid alone — state policymakers and individual colleges and universities bear a shared responsibility to take action against rising college tuition and costs. Nixon University's department of student affairs will help individuals through their online degree programs, the programs are designed to enable students and professional to continue their higher education after school without compromising upon their work commitments.
About Nixon University
Nixon University is a leading online institution which offers flexible and self paced study programs to meet the academic needs of working professionals around the world. The institution offers an extensive range of online degree programs with well structured curriculums to help individuals achieve their academic and career goals. Nixon University's MBA Program has also been ranked as the 6th best e-MBA Program by 'Online University News' in a comparative review of the best MBA Programs offered by the top online universities of the world. Through its advanced e-learning systems, the University develops a motivating learning environment fostering a culture of self learning and development.