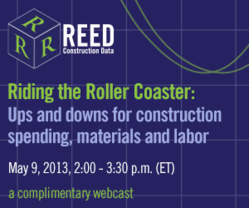 Find out what experts from the AIA, the AGC and Reed foresee for commercial construction in 2013.
Norcross, GA (PRWEB) April 24, 2013
Chief economists from Reed Construction Data, the American Institute of Architects and the Associated General Contractors of America are coming together for a complimentary construction economy webcast: Riding The Roller Coaster: Ups and Downs for Construction Spending, Materials and Labor.
The webcast, set for May 9, 2013, features leading chief economists, Ken Simonson of the AGC, Kermit Baker of the AIA and Bernard Markstein, Reed, who share their insight into the outlook for commercial construction.
The construction economy has taken many turns over the past several years. Although still somewhat flat, there are many signs that recovery is just ahead. Find out what the industry experts foresee for 2013:

What issues are directly affecting the construction outlook?
Which markets are showing the most growth?
Which areas are experiencing the most change?
What is expected for housing?
Which building material prices will spike? Which will fall?
What are architects seeing for commercial construction?
Have unemployment numbers really fallen?
Will labor shortages derail the industry's rebound?
What are the top risks to the 2013 economy?
The live webcast airs on May 9, 2013, from 2-3:30 p.m., EDT, with the speakers accepting questions from the online audience in the last half hour. An archived version and presentation slides are available to registrants after the broadcast.
Sponsored by InfoTech International, the webcast is free of charge and open to everyone. AIA members who register and attend the live broadcast are eligible to receive 1.5 AIA continuing education credits.
To sign up for the webcast, please click here to register.
About Reed Construction Data
Reed Construction Data LLC (RCD), a division of Reed Business Information and the Inaugural Strategic Partner of the AIA, is a leading North American provider of construction information. Reed Construction Data's diverse portfolio of innovative products and services includes national, regional and local project leads, accurate and up-to-date RSMeans cost data, marketing solutions and market intelligence to provide insight to construction industry professionals throughout the U.S and Canada. Visit the Reed Construction Data website at http://www.reedconstructiondata.com.
About The AGC of America
The Associated General Contractors of America (AGC) is a national trade association, dedicated to furthering the ever-changing agenda of commercial construction contractors, improving job site safety, expanding the use of cutting edge technologies and techniques, and strengthening the dialogue between contractors and owners. Founded in 1918, AGC today represents more than 33,500 member firms, including 7,500 of America's leading general contractors and over 13,000 specialty-contracting firms. Visit the AGC website at http://www.agc.org.
About The American Institute of Architects
For over 150 years, members of the American Institute of Architects have worked with each other and their communities to create more valuable, healthy, secure, and sustainable buildings and cityscapes. Members adhere to a code of ethics and professional conduct to ensure the highest standards in professional practice. Embracing their responsibility to serve society, AIA members engage civic and government leaders and the public in helping find needed solutions to pressing issues facing our communities, institutions, nation and world. Visit the AIA website at http://www.aia.org.
About InfoTech International, LLC
InfoTech International, LLC provides cloud-based software solutions that combine advanced mathematics and innovative technology. InfoTech's big data analytic capabilities bring on-demand business intelligence and management metrics to the construction industry. It's Project Tracker Lite (PT Lite) software helps businesses strengthen their lead and sales execution process, increase channel visibility and build stronger customers relationships. For more information, go to http://www.ptlite.com.