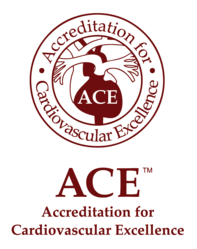 ACE was an insurance policy for us; we gained the confidence of cost avoidance associated with RAC audits and malpractice claims.

David Wohns, MD
Director, Invasive and Interventional Cardiology, Spectrum Health, Grand Rapids, MI
Amelia Island, FL (PRWEB) April 24, 2013
At the MedAxiom Spring conference, Dr. David Wohns, Director of Invasive and Interventional Cardiology at Spectrum Health in Grand Rapids, MI, presented "Improving Quality and Managing Cost: Cath Lab Accreditation: From Good to Great," an overview of the outcomes and payback his cardiac cath lab has obtained from the process of ACE accreditation.
Dr. Wohns stated that "The changes required [for cardiac cath labs] to be competitive will involve lean processes, such as real time, complete documentation for appropriate use criteria (AUC), quality data and outcomes." An impressive data point achieved by Spectrum Health was a substantial increase in AUC PCI appropriateness scores from 2011 to 2012. Dr. Wohns cited the impact of Value Based Purchasing and Public Reporting and emphasized, "This will affect you, your practice, institution and future success."
The presentation was well-attended with many questions from the audience. Conference attendees were specifically interested in the cost-benefits of ACE accreditation. Dr. Wohns responded; "ACE was an insurance policy for us, we gained the confidence of cost avoidance associated with RAC audits and malpractice claims. Also, had internal resources been utilized [to achieve the same objective], it is likely we would have had similar or greater expense in staff time, without the validation of external expert review and input. Due to ACE expertise, our time frame for major accomplishments was compressed. ACE's timeline pushed us to be laser focused in the context of multiple potential distractions."
Dr. Wohns stated that a critical success factor is a broad understanding by hospital, cath lab administration, quality/data analysts and physicians of the value of the accreditation process. He believes that ACE processes improve the quality performance of cardiovascular procedures, emphasize the use of outcome measures, provide the external oversight of peer review and deliver a customized corrective action plan. Dr. Wohns concluded his presentation by stating that the most important change ACE delivered was driving greater collaboration amongst the silos of the quality department, noninvasive imaging and cath lab, resulting in improved, higher quality care for patients.
Visit the ACE website for additional information and to schedule a complimentary one-hour consultation: http://www.cvexcel.org
About Accreditation for Cardiovascular Excellence
ACE, an independent organization sponsored by the Society for Cardiovascular Angiography and Interventions (SCAI) and the American College of Cardiology Foundation (ACCF), offers independent evaluation and monitoring of facilities that provide cardiovascular care. By reviewing facility and operator performance and comparing clinical decision-making to nationally accepted best practices, ACE peer review and accreditation services plays a critical role in continuous quality improvement programs. Learn more at http://www.cvexcel.org.