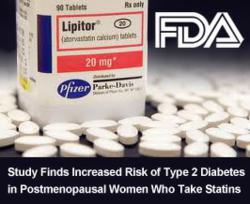 To discuss a potential Lipitor diabetes lawsuit claim with one of the compassionate Lipitor lawyers at Alonso Krangle LLP, please contact us at 1-800-403-6191 or visit our website, FightForVictims.com
New York, NY (PRWEB) April 24, 2013
The defective drug attorneys at Alonso Krangle are investigating Lipitor diabetes lawsuit claims after a Lipitor diabetes lawsuit was filed on behalf of a South Carolina woman who developed type 2 diabetes allegedly due to taking Lipitor. The case (Case No. 2:13-cv-00796) was filed on March 25, 2013, names Delaware-based Pfizer, Inc. as the defendant and will be litigated in the U.S. District Court of South Carolina, Charleston Division. The Lipitor diabetes lawsuit complaint alleges that Pfizer failed to warn physicians and consumers, including the plaintiff, about the risk of developing diabetes when using Lipitor despite the fact that Pfizer was aware of data linking Lipitor use to the development of type 2 diabetes. Lipitor Diabetes Lawsuit (Case No. 2:13-cv-00796)
Alonso Krangle's focused defective drug attorneys are dedicated to standing up for victims' rights and holding even the largest corporations accountable for their potentially dangerous medications. We offer free Lipitor diabetes lawsuit evaluations to those who have sustained serious injuries or developed type 2 diabetes that could be linked to their use of Lipitor. To discuss a potential Lipitor diabetes lawsuit claim with one of the compassionate Lipitor lawyers at Alonso Krangle LLP, please contact us at 1-800-403-6191.
According to court documents in the Lipitor diabetes lawsuit, the plaintiff was prescribed Lipitor in 1999 to treat her high cholesterol levels and decrease her risk of developing heart disease. The plaintiff was allegedly healthy prior to taking Lipitor and reportedly had a body mass index (BMI) of 24.8. After taking Lipitor for more than 10 years, in June 2009, the plaintiff was diagnosed with type 2 diabetes.
As a result of her diagnosis, the plaintiff has suffered permanent damage to her health that will require her to regularly test her blood sugar levels, adhere to a strict diet and take diabetes medication for the rest of her life. The Lipitor diabetes lawsuit complaint alleges that, had Pfizer properly disclosed the risks of type 2 diabetes when taking Lipitor, the plaintiff could have chosen to minimize her risk by not taking Lipitor in the first place or by closely monitoring her blood glucose levels to gauge whether Lipitor was adversely affecting her metabolism.
Study Links Lipitor Use to Development of Type 2 Diabetes
A study that was conducted by the University of Massachusetts Medical School and was published in January 2012 focused on the possible link between Lipitor use and the development of type 2 diabetes. From 1993 through 2005, this Lipitor and type 2 diabetes study focused on nearly 154,000 women with a mean age of 63. By the end of the study, researchers found that more than 10,200 women in the study had developed new cases of type 2 diabetes and that those with a body mass index (BMI) that was less than 25 had a greater risk of developing the disease. After accounting for the participating subjects' age, weight, lifestyle and other factors that may contribute to the development of diabetes, researchers found that postmenopausal women taking statins like Lipitor had up to a 46 percent increased risk of developing type 2 diabetes.
[ http://archinte.jamanetwork.com/article.aspx?articleid=1108676
The findings of this study sparked the FDA to issue a drug safety communication in February 2012 regarding important safety label changes mandated for Lipitor and other statins. As part of the FDA announcement, the agency also included warnings to the public regarding the risks of serious Lipitor diabetes side effects, including type 2 diabetes. Despite the FDA's Lipitor warning, to date, warning labels on Lipitor packaging still fail to point out the risk of developing diabetes when taking Lipitor, according to court documents.
[ http://www.fda.gov/Drugs/DrugSafety/ucm293101.htm
About Alonso Krangle LLP And Filing A Lipitor Diabetes Lawsuit Claim
Andres Alonso and David Krangle, attorneys with almost 40 years of collective legal experience, have focused their law practice on handling significant personal injury cases, defective drug and medical device litigation, construction site accidents, nursing home abuse, medical negligence, qui tam/whistleblower actions and consumer fraud cases. Alonso Krangle LLP is headquartered in Long Island, New York, with offices in New York City, and New Jersey. To discuss a potential Lipitor diabetes lawsuit claim with one of the compassionate Lipitor lawyers at Alonso Krangle LLP, please contact us at 1-800-403-6191 or visit our website, FightForVictims.com
For more information about Alonso Krangle or to join the fight and be a part of our team, please contact us at 1-800-403-6191 or visit our website http://www.FightForVictims.com.
Alonso Krangle LLP
445 Broad Hollow Road
Suite 205
Melville, New York 11747
Toll-Free: 1-800-403-6191
Tel: 516-350-5555
Fax: 516-350-5554