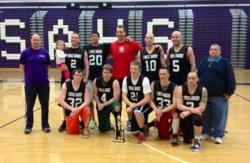 Coal Township, Lebanon, PA (PRWEB) April 25, 2013
News originally published: April 22, 2013 News Item
E Mortgage Management, LLC dba EMM Financial captured the championship of the 10th annual Salvation Army Adult Benefit Basketball Tournament Sunday at Shamokin Area Junior-Senior High School.
Trophies were presented immediately after the title game by Chris Venna and Brian Persing, tourney co-chairmen. Venna and Persing are also members of the Salvation Army Advisory Board. Trophies were presented to EMM, tourney champs; James Pizza, runners-up; Tire Ranch, third place, and Klebon's Insurance, fourth place. The co-chairmen said a tourney wrap-up will be released later this week. All proceeds benefit the local Salvation Army's charitable programs.
"E Mortgage Management is passionate about helping our local communities and we look forward to ongoing philanthropic collaboration with the Salvation Army and other humanitarian organizations that help make the world a better place" said Company President, Kevin A. Crichton. "It is important to our organizational collective that we embark on this mission and others of similar community value as we advance the mindset- where every employee is highly engaged in hands-on contribution to the cause" Mr. Crichton continued.
About E Mortgage Management:
E Mortgage Management is an approved lending institution holding an A rating with the Better Business Bureau (BBB) and is a member of the Mortgage Bankers Association (MBA). E Mortgage Management provides a wide range of loan choices at competitive rates to new and existing customers. The company has been serving residential homeowners since 2002, is an Equal Housing Lender and an Equal Opportunity Employer. Company headquarters is located in Haddon Township, New Jersey.
Forward-Looking Statements-
E Mortgage Management is a privately held company. This press release may be deemed to contain forward-looking statements, which are subject to the safe harbor provisions of the Private Securities Litigation Reform Act of 1995, including statements regarding the expected benefits to consumers from using E Mortgage Management services. Readers are cautioned that these forward-looking statements are only predictions and may differ materially from actual future events or results due to a variety of risks and uncertainties. Any forward-looking statements in this release are based on limited information currently available to E Mortgage Management, which is subject to change, and E Mortgage Management will not necessarily update the information.