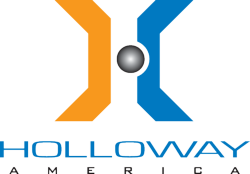 We are excited to unveil an innovative, patented solution for separating process connections from stubborn gasket seals.
Springfield, MO (PRWEB) April 23, 2013
HOLLOWAY AMERICA announced it will exhibit at INTERPHEX 2013 in New York, NY. The company will showcase its pressure vessels and components at the annual pharmaceutical and biopharmaceutical trade show, where it will introduce a patented solution for breaking gasket seals and separating process connections on clamp-type, Sanitary Clamp (S-Clamp), TC and Tri-Clamp®-type fittings used in the process industries. HOLLOWAY Sales Engineer Randy Colwell stated that he and his colleagues are "excited to unveil an extremely useful tool for breaking gasket seals free—something that regularly causes hassles for anyone who works with pressure vessels. After weeks of heavy use, a gasket seal on a process connection simply doesn't separate easily, so our engineers have crafted an effective and easy-to-use solution."
Throughout INTERPHEX 2013, representatives from HOLLOWAY will be available at booth #3711 to demonstrate and discuss the new tool. The HOLLOWAY booth is located near the entrance to Exhibit Hall 3A. Featuring the latest products from over 650 suppliers, the annual event will take place from April 23 – 25 at the Javits Center in New York City. Conference hours are from 9 a.m. – 5 p.m. on Tuesday and Wednesday, and 9:30 a.m. – 12 p.m. on Thursday; and the show hours are 10 a.m. – 5 p.m. Tuesday and Wednesday, and 10 a.m. – 3 p.m. Thursday when the show comes to a close.
In addition to HOLLOWAY's new solution for breaking gasket seals and separating process connections, the company will display numerous pressure vessels, tanks and components at the conference. Colwell noted that INTERPHEX attendees are often also interested in HOLLOWAY's unique ability to supply original Precision Stainless, Inc. tank components. He and other HOLLOWAY sales engineers will be on hand to discuss these capabilities as well as their YOURSITE™ Field Services and the popular FASTMOUNT™ and FASTMOUNT Adapter™ for quickly connecting Tri-Clamp®-type equipment.
Much like the FASTMOUNT™ and FASTMOUNT Adapter™, HOLLOWAY's tool for loosening gasket seals on vessels such as stainless fermenter tanks is custom designed and resulted from hands-on experience. "Our craftsmen have personally felt the frustration of struggling to separate process connections from gasket seals. Almost anyone who has used a fermenter or other pressure tank has also resorted to using a hammer and screwdriver to break a vacuum-tight gasket seal. The problem is that screwdrivers can physically damage the tank. Plus, screwdrivers made from carbon steel can cause carbon contamination, which just can't be risked in a pharmaceutical or biopharmaceutical process," Colwell stated.
HOLLOWAY representatives are confident their new product will let customers avoid this unnecessary damage to pressure vessels while helping eliminate injuries that occur when misusing screwdrivers to break the seal on process connections.
For more information on custom steel fabrication, pressure vessels and tank components, or for further details on INTERPHEX 2013, contact HOLLOWAY AMERICA at 417.863.0077 or by email at info(at)HollowayAmerica(dot)com.