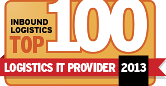 Atlanta, Ga. (PRWEB) April 24, 2013
SMC³ announced today that it has been named a 2013 "Top 100 Logistics IT Provider" by Inbound Logistics magazine. "We are proud that this leading industry publication has chosen SMC³ for our innovative solutions," said Danny Slaton, executive vice president of business and product development at SMC³. "SMC³ is especially focused on delivering cloud-based solutions to meet our customers' and partners' supply chain demands in a data-driven world."
Every April, Inbound Logistics editors recognize 100 logistics IT companies that support and enable logistics excellence. Editors drew from a pool of over 300 companies to select the Top 100 Logistics IT Providers who are leading the way in 2013. "Today's business logistics managers increasingly rely on IT partners, as well as third-party logistics providers, for leading supply chain management technology solutions," said Felecia Stratton, editor, Inbound Logistics. "To recognize this paradigm shift, Inbound Logistics editors this year, for the first time, included on its Top 100 Logistics IT Providers list several companies that enable intermediaries to provide their customers with world-class logistics IT solutions. Inbound Logistics is proud to honor SMC³ for delivering best-in-class technology that drives enterprise efficiency."
About Inbound Logistics
Inbound Logistics is the pioneering publication of demand-driven logistics practices, also known as supply chain management. IL's educational mission is to guide businesses to efficiently manage logistics, reduce and speed inventory, and neutralize transportation cost increases by aligning supply to demand and adjusting enterprise functions to support that paradigm shift. More information about demand-driven logistics practices is available at http://www.inboundlogistics.com.
About SMC³
SMC³ is the leading provider of data, technology and education as an integrated solution to the freight transportation community. SMC³ delivers its core competency—LTL pricing expertise—through collaborative pricing technology that supports end-to-end, ongoing predictability in shipper/3PL-carrier relationships. Best known for its CzarLite®, Bid$ense® and RateWare® solutions, the company serves more than 5,000 customers throughout North America, including shippers, carriers, logistics service providers and freight-payment companies. The company also partners with leading transportation software developers for complete interoperability. For more information about SMC³, visit http://www.smc3.com.
###
Media Contact
Jean Barnes
Director of Marketing
SMC3
Office: 770-486-5823
Email: jbarnes(at)smc3(dot)com