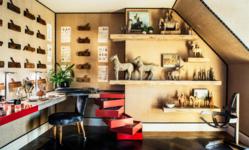 San Francisco, CA (PRWEB) April 24, 2013
San Francisco-based interior designer Antonio Martins is pleased to be participating in the 2013 San Francisco Decorator Showcase. Antonio Martins has taken a small room off the attic of the venerable Herbst Manor and has created a refuge representing a man's treasured workshop. Staying true to this craftsmanship inspired room, Martins use of wood, burlap and metal have been expertly layered in such a way that the most mundane of materials transform into exquisite focal points to delight the senses.
Antique tools collected from around the world line the walls, along with original 18th century encyclopedia prints, adding to the room's charm as a quiet craftsman's retreat. Built-ins have been designed to work around the architecture of the space where the use of both lacquered finished surfaces and rough primitive surfaces give contrast between refinement and simplicity. Burlap, seemly the most basic of materials, has been given a style upgrade as Martins cleverly transforms it into wallpaper trimmed with black tape and nail heads. While much of the room is designated and used as a hands-on workspace, this sanctuary easily transforms into a guest space where custom metalwork not only acts as storage but an extended shelf becomes a bed when adorned with a traditional French handmade mattress. This functioning atelier of an owner who loves antiques becomes a place where loved-ones can appreciate and admire the owners' cherished objects as much as he does.
The 2013 San Francisco Decorator Showcase is open from April 27-May 27, 2013 at 2800 Pacific Avenue in San Francisco. The house is open everyday of the week except Mondays. The hours are: Tuesday, Wednesday, Thursday and Saturday: 10:00 a.m.–3:00 p.m. (last entry), Friday: 10:00 a.m.–7:00 p.m. (last entry), Sunday and Memorial Day: 11:00 a.m.–4:00 p.m. (last entry), CLOSED MONDAY (except Memorial Day).
Tickets are $30 each, seniors $25. More information on this annual charitable event benefiting the University High School scholarship fund, can be found at http://decoratorshowcase.org/
About Antonio Martins:
Antonio Martins studied hotel management in Switzerland, and worked for 11 years building a successful hotel career in Asia. From Hotel operations to Hotel design, he put his marks in some of the finest venues in Hong Kong, Bangkok, Argentina and most recently Chicago.
His Residential Career began in San Francisco, while obtaining a Masters of Fine Arts in Interior Architecture and Design. An artist at heart, Antonio brings an eclectic approach to interior design, with an interesting mix of antiques, modern artwork and contemporary furniture.