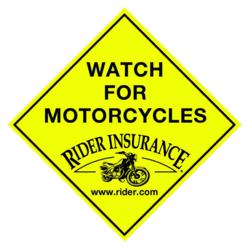 Springfield, NJ (PRWEB) April 25, 2013
With motorcycle fatalities on the rise, it is important to remember that motorcyclists are more vulnerable than those in other types of vehicles. It is important that riders be visible to other motorists and obtain proper training and licensing, wear the appropriate protective gear, and always respect the rules of the road.
In recognition and support of Motorcycle Safety Awareness Month, Rider Insurance will be running daily promotions on Facebook during the entire month of May, including hundreds of dollars a day in motorcycle safety apparel and motorcycle training courses. The promotion kicks off at 10 am (EST) on Wednesday, May 1, 2013. Everyone who "likes" Rider Insurance's Facebook page is eligible to participate. As an added bonus, download the Rider Connection App and get VIP promo access. Details can be found on the Rider Insurance website, http://www.rider.com and on the Rider Insurance Facebook page, http://www.facebook.com/RiderInsuranceCo.
"Watch for Motorcycles" decals and reflective helmet stickers will be available at the Rider booth at various motorcycle events and motorcycle dealerships events throughout DE, IN, MD, NJ, OH, PA, VA and WV free of charge. For event locations, go to http://www.rider.com/motorcycle_community/motorcycle-events.html.
In addition to direct promotions, Rider will continue to support other individuals and organizations in their efforts to promote motorcycle safety awareness through the Rider Insurance Bleiwise Family Foundation and general corporate donations and sponsorships throughout the riding season. If you are planning a motorcycle safety awareness event, please contact events(at)rider(dot)com.
For more information on Rider Insurance or to get a quick quote, call 800-595-6393 or visit http://www.rider.com.