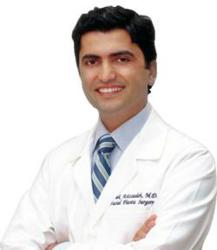 A masseter to facial nerve transfer connects the masseter nerve to the paralyzed facial nerve to restore neural input and promote facial movement.
Beverly Hills, CA (PRWEB) April 25, 2013
In a recent study published in the April 2013 edition of Neuroehabil Neural Repair, a randomized controlled trial was conducted to determine the efficiency of early set physical therapy for individuals affected with the facial paralysis condition Bell's palsy. Babak Azizzadeh, MD, FACS, and world-renowned facial paralysis surgeon in Beverly Hills believes that the study showcases one of the most important parts of overcoming the condition.
"Physical therapy is an extremely integral part in harnessing a full recovery anytime a nerve has become compromised. In cases where an individual is dealing with Bell's palsy or facial paralysis, I always recommend a course of physical therapy with a specialist," said Dr. Azizzadeh.
Though it's been long understood that physical therapy benefits individuals affected with the condition, this study aimed to determine the effectiveness of physical therapy when began at a very early point in the diagnosis in conjunction with standard drug administration. The research examined 232 patients with varying degrees of Bell's palsy and synkinesis. In conclusion, early physical therapy was deemed to be effective only for cases of extreme Bell's palsy paralysis. In patients experiencing mild cases, complete recovery was noted spontaneously and without reference to physical therapy.
"The findings by the study presented are excitingly interesting and show that in cases of severe Bell's palsy, a patient could very well see a better and quicker end to the disorder if the proper steps are taken early on," said Dr. Azizzadeh. "If you believe you might be suffering from Bell's palsy, I always encourage individuals to seek professional help immediately to determine the cause and develop a treatment plan as soon as possible."
At the Facial Paralysis Institute in Beverly Hills, Dr. Azizzadeh treats individuals dealing with Bell's palsy on a daily basis with a variety of both surgical and non-invasive treatment methods. For those with minor cases, often times injections of cosmetic Botox to the proper facial muscles are enough to bring a more balanced facial appearance while the condition clears up on its own. In severe or permanent cases of Bell's palsy, Dr. Azizzadeh notes that a procedure called a masseter-facial nerve transfer is one of the most ideal procedures to promote facial reanimation.
"A masseter to facial nerve transfer connects the masseter nerve to the paralyzed facial nerve to restore neural input and promote facial movement. It is truly one of the most spectacular procedures today, as it can literally put a smile back on my patients faces," said Babak Azizzadeh, MD, FACS.
Babak Azizzadeh, MD, FACS, is a world-renowned facial paralysis and reconstructive surgeon. Since his extensive and prestigious training at Harvard Medical School, Dr. Azizzadeh has helped hundreds of people with varying degrees of facial paralysis. Dr. Azizzadeh is the director of the Facial Paralysis Institute and one of the leading figures in the field of Facial Nerve Paralysis. Dr. Azizzadeh has been recognized for his work on several occasions, and has appeared on the Oprah Winfrey Show and countless other media outlets.
For additional information about undergoing surgical or non-invasive facial paralysis surgery, please contact Dr. Azizzadeh by calling (310) 657-2203 or visit http://www.facialparalysisinstitute.com.