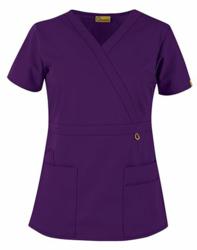 Plantation, FL (PRWEB) April 24, 2013
Medical Scrubs Mall, a nationwide provider of medical scrubs and uniforms has recently added customer favorite WonderWink Uniforms to its website.
The WonderWink Scrubs brand is very popular among medical professionals, with their vibrant and modern product offering paired with their unique WonderWink Difference. The selection on Medical Scrubs Mall includes a variety of colorful scrub tops, flattering scrub pants, scrub jackets, and long sleeve scrub tees.
WonderWink Uniforms is known for providing their customers in the medical field with the WonderWink Difference. This consists of a tailored cut, long-lasting fabric, streamlined fit, smiley face logo, bungee ID badge holder, mesh pockets, accessory loops, and signature drawstrings and pockets. Their distinguished WonderWink Origins collection offers a bright and contemporary color palette along with ample pocket storage and an affordable pricing structure. The WonderWink Utility Girl line brings medical professionals a scrub set option with fashionable stretch, flexible fit, and utility styling without the bulk.
By adding WonderWink Scrubs to the current brand portfolio, Medical Scrubs Mall can provide their valued customers with a continually improving "one stop shop" online shopping experience. A greater variety of brands will allow for customers to find everything they need in one place, which is an essential time saver when placing a group order for an entire office or hospital floor. When additional brands are added, it also ensures that prices will remain competitive for customers. This contributes to the ultimate goals of Medical Scrubs Mall, to build customer loyalty, and to continually provide their esteemed customers with a positive medical uniforms online shopping experience.
For more information about the brand and to purchase the various styles from WonderWink Scrubs, visit http://www.MedicalScrubsMall.com.
About Medical Scrubs Mall
Medical Scrubs Mall is a leading retailer of scrubs and medical uniforms. The company operates out of Plantation, Florida. With medical uniforms from established names like Landau, Cherokee, WonderWink, Dickies, Peaches, and Grey's Anatomy by Barco, Medical Scrubs Mall has something for every customer.
For more information and to view their garments, visit the Medical Scrubs Mall website at http://www.MedicalScrubsMall.com or call 800-283-8708.