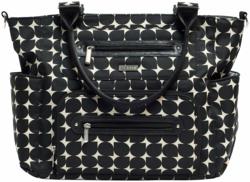 Quality And Affordability!
West Des Moines, Iowa (PRWEB) April 24, 2013
Bliss Baby & Maternity is now carrying JJ Cole Sophisticated Baby bags. The JJ Cole Brand was created more than 14 years ago by young parents and they have designed products with parents in mind. Parenting can be challenging but the joy of being calling mom and dad is very satisfying. At JJ Cole, they strive to portray the enthusiasm within their own families into the design of their products. With a wealth of experience in fashion and accessories, these bags were created out of necessity for something like this in the marketplace. Who says that a diaper bag cannot be stylish yet functional? These bags are designed to fit the busy lifestyle of today's parents.
JJ Cole Bags have led the way for over a decade and are an essential accessory that mothers throughout the world love. The company's continued success in an increasingly competitive market is a result of their knowledgeable background and ability to combine new season fashion with functional and innovative designs. One of the best sellers is the Caprice Bag. It is a very fashionable and very functional tote. This bag can be used with a shoulder strap, stroller straps, or the tote handles. It has a spacious interior and many organizing compartments. In addition to great quality, these bags are also very affordable.
JJ Cole makes many other great products to include strollers and car seats, car seat covers, nursing pillows, nursing covers, blankets, and many other products made especially for babies. JJ Cole products are of superb quality and are very reliable.
JJ Cole is also concerned about the safety and well-being of the customers that they serve. Each product goes through rigorous third party testing to ensure that each item meets or exceeds the highest standards in the industry.
Please visit http://www.blissbabyandmaternity.com for all the baby bag and diaper bags needs and look at the variety of other JJ Cole Products that we offer. Visit today for a limited 10% discount. (Details on the website).