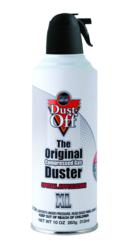 Branchburg, NJ (PRWEB) April 30, 2013
Dust-Off®, the leading brand of consumer electronic cleaning products, is now providing consumers with a variety of products for their interior and exterior car cleaning needs. Dust-Off's compressed gas dusters and screen cleaning products help car owners keep their vehicles looking and running like new.
Dust-Off's Special Application Duster is non-flammable and is a useful tool for detailing a car's exterior. The powerful blast from Dusters allows car owners to clean debris from small, hard-to-reach cracks and crevasse in a car's exterior. After a car has been washed, Dust-Off's Special Application Duster can help blow water out of mirrors, grills, wheel wells and anywhere else water can get trapped and cause unsightly water spots.
The Duster also has many uses to help owners clean their car's interior. Dust-Off's Special Application Duster is an ideal tool to clean out dirty air vents, ridding the car of the musky smell that occurs when vents are blocked. The special formula of the Special Application Duster allows car owners to safely and effectively clean car grills and vents. Grills and vents can also be cleaned with other Dust-Off Duster products, but the product may not be sprayed directly into vents and grills.
Dusters also clear dust and debris out of cup holders, hard-to-reach areas of a car's interior and even carpeting. With hard-to-reach areas free of dirt, car owners just need to vacuum up any excess debris for a spotless interior.
Dust-Off also has an entire line of electronic screen cleaners that can be used to easily wipe away grim and fingerprints from a car's touchscreen radio, in-car navigation system or GPS. These screens can easily collect fingerprints and dust, making the displays hard to see. Dust-Off's Anti-Static Monitor Wipes are specially designed to rid screens of dust, dirt and lint without damaging sensitive electronics. The small size of the Junior Monitor Wipes tub conveniently fits in a car's cup holder allowing owners to easily store the wipes for all their screen cleaning needs.
To watch more on cleaning and detailing your car interior, visit our Dust-Off Educational Videos. All of Dust-Off's screen cleaning products are currently available and can be purchased at http://www.Dust-Off.com/products.
About Dust-Off®
Manufactured by Falcon Safety Products Inc., a world leader in compressed-gas technology, Dust-Off offers the most comprehensive line of dust removing and preventive maintenance products for consumer electronics and home or office equipment. Dust-Off compressed-gas dusters are one of the most versatile cleaning accessories available to consumers today and have long been a staple for the care and maintenance of computers and other electronic equipment. For additional information, please visit http://www.Dust-Off.com or follow on Facebook at http://www.Facebook.com/KeepitDustOff.