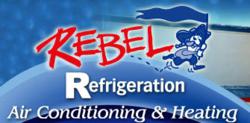 Rebel Refrigeration Came to My Rescue
Las Vegas, NV (PRWEB) April 24, 2013
Rebel Refrigeration, the company owned by the well-recognized and outspoken "Joe the AC Guy," has just announced that it has expanded its geographical service area even farther than it has ever reached before. This will mean that many more customers will be able to take advantage of the company's guarantee that if the technician is not on time, the service call will be free.
It can take a lot for a company to get noticed in Vegas, but Rebel Refrigeration has made sure to keep itself in the spotlight with quality and satisfaction guarantees. The popularity of these air conditioning and related services has become high enough that the company has now responded to the call by expanding its service area to include Henderson, Summerlin, North Las Vegas, Green Valley, Southern Highlands, as well as Las Vegas, where it all began.
Though Rebel Refrigeration started to be recognized nearly right away, it is through its extreme focus on service and satisfaction that has allowed it to grow to the company that it is today. First opened in 1995, this business has remained family owned and operated over the years with no outside investors. This means that there are no corporate sales quotas or obligations to be met, so that the customer service and technician teams can concentrate on the most important focus: making sure that the problem is fixed and the customer is happy.
The "Warehouse on Wheels" service vehicles in the Rebel Refrigeration fleet each carry thousands of parts that are continually restocked. This makes sure that there is a massive inventory traveling with the technicians at all times. A massive 93 percent of the time, the technician already has the parts required to complete the installation or repair without leaving the site. On those rare occasions that he or she must leave to find a part, the customer is never charged for the time.
Rebel Refrigeration provides air conditioning installation and repair, air duct cleaning, free carbon monoxide testing, heating, kitchen installations, refrigeration, and stainless and sheet metal fabrication. Its unmatched guarantee says that it's "fixed right or it's free," which has helped to contribute to its massive customer loyalty. Now, this is all available to an expanded geographical region in and outside of Las Vegas, Nevada.
For more information about Rebel Refrigeration, its service area, and the products and services that it provides, visit the official company website at http://www.rebelrefrigeration.com or call 702-734-7750.