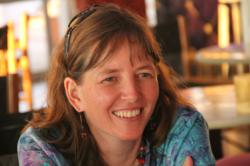 Anaheim, CA (PRWEB) April 24, 2013
Congressman James T. Walsh once stated that "Looking long term, a stronger, wealthier, and more stable Central America next door benefits the United States' own safety, security, and economy." The people over at the Sustainable Harvest International (SHI) organization couldn't agree more, especially with a focus on environmental progression.
This year's Business 4 Better (B4B) conference in Anaheim, CA on May 1st and 2nd has three goals for any and all who the business and non-profit professionals who will attend:
1. Driving partnerships into the core business for maximum business and social impact

How to enhance and improve any business function with non-profit partnerships
Getting internal business support for non-profit partnerships that allows social efforts to grow to scale
Research findings on the business benefits of non-profit partnerships
2. Partnership high-impact story telling

Measuring the business ROI and social ROI (SROI) of business-non-profit partnerships
Including business-non-profit partnership information in corporate and non-profit annual
reports and other communications

Telling the business-non-profit partnership story using social media
3. Partnership basics for business and non-profit professionals with any title

Evidence-based elements of a high-impact business-non-profit partnership
How to transition from checkbook philanthropy to high-impact partnerships without
abandoning or alienating existing allies

How to work well and happily with cross-sector partners
With those goals in mind, Florence Reed, founder and president of SHI, is dedicating her time and her efforts in order to educate and incentivize others about the benefits of engaging in Central America and SHI's mission. They can be found at booth #130.
"Socially and environmentally conscious businesses have been a big part of SHI's success reversing poverty and deforestation in Central America," stated Florence. "At the same time, I am glad to know that the businesses that support SHI have attracted new customers and built brand loyalty through their association with our work. I look forward to B4B as opportunity to connect with more such businesses and explore new forms of partnership, such as offering volunteer travel opportunities for employees."
The mission of Sustainable Harvest International is to provide farming families in Central America with the training and tools to preserve our planet's tropical forests while overcoming poverty.
Founded in 1997 by Returned Peace Corps Volunteer Florence Reed, Sustainable Harvest International addresses the tropical deforestation crisis in Central America by providing farmers with sustainable alternatives to slash-and-burn agriculture. http://sustainableharvest.org
The Business4Better (B4B) Conference and Exhibition is an annual industry leading, non-commercial not-for-profit event featuring high-level keynotes, educational content, relationship building, and a dynamic exhibition space featuring nonprofit organizations. http://business4better.org