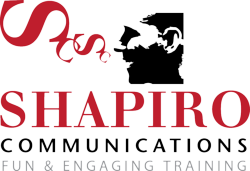 Philadelphia, PA (PRWEB) April 25, 2013
In our ever-present electronic communication era, there has been surprising little attention paid to developing the most effective email communication practices possible. Given this fact, Shapiro Communications has developed "Old School Techie: When Email and Texting Aren't Enough", a fun and engaging training program that provides practical yet highly regarded insights into becoming a more shrewd reader of email communications, so as to better recognize the sender's intentions, motives, and emotions behind the words. These insights lead to more thoughtful replies, reducing costly misunderstandings while increasing relational trust.
The "When Email and Texting Aren't Enough" program features a 15-minute original professionally produced multi-media theatrical performance that dramatizes the numerous challenges email communications present in the workplace. Shapiro Communications founder, president, and performance artist, Brian Shapiro, will portray the show's five characters, seamlessly transforming from one character to the next.
This is part of the Shapiro Communications public programs series being presented at the GPCC Conference Center, 200 S. Broad Street, Suite 700, Philadelphia, PA 19102 and is in partnership with Corporate Event Planners USA (http://www.eventplannersusa.com). A complimentary lunch is being catered by Modern Palate (http://www.modernpalate.com) and will include grilled chicken with fresh cucumbers, tomato, lettuce and herbed balsamic aioli in a wrap, house-cut waffle potato chips, and refreshments to include iced tea and fresh squeezed lemonade.
Shapiro Communications brings joy and happiness to organizations by presenting fun and engaging organizational communication training programs that feature live theatrical performances dramatizing modern workplace communications challenges. Shapiro Communications' clients include PIDC, Philadelphia Youth Network, BDP International, and the Public Interest Law Center of Philadelphia.
Visit Shapiro Communications website at http://www.shapirocommunications.com.
To register for this event, click here.