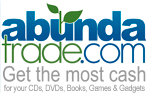 "AbundaTrade's new on-line calculator is a game changer for us as a company," states AbundaTrade's Kent Wagner.
Mount Pleasant, South Carolina (PRWEB) April 24, 2013
AbundaTrade has released the company's new on-line trade calculator. Benefiting traders in the recommerce business is nothing to new to the company, but with its new on-line calculator, it has developed a competitive advantage for companies and people doing trades and selling to the company because now trades submitted will contain prices on trades from both AbundaTrade and its top competitor, with a price match component built in. Sellers and traders will now be able to literally do one-stop-trade business with AbundaTrade.com, and stop having to shop lists of trades at several places on-line. For traders, sellers and AbundaTrade, the company's new on-line calculator is a triple win advantage. In this case, everyone really and truly wins.
AbundaTrade.com came onto the global reCommerce scene when the company opened for business in 2008. The primary focus of the company is to buy trade and sell used items including phones, laptops, sound systems, game consoles, gadgets, and more.
Established in 2008, AbundaTrade.com is proud to be a part of the global reCommerce industry. Their efforts are focused more on trading and selling of used items instead of discarding old items in favor of new ones. By concentrating on the options available through trading items, AbundaTrade.com offers its customers the opportunity to obtain items for less as well as providing an environmentally friendly way to shop. In addition to helping the environment by repurposing phones, gadgets, books, CD's, DVD's and video games, AbundaTrade.com also uses reuses packing material and recyclable shipping materials whenever possible. At AbundaTrade, they believe in being smart and mindful consumers.
"AbundaTrade's new on-line calculator is a game changer for us as a company. Traders and sellers can now use our on-line calculator to submit lists of CD's, DVDs, video games and books and get a price quote from us and a price on an item from our top competitor on each time submitted. Instead of shopping trades at several places on-line traders and sellers can submit their list to us and know they'll get our price, our competitor's price, and our price match if our competitors quote is higher, all from one list submission," states AbundaTrade's Kent Wagner. "With our new on-line price quote calculator our customers win and save tons of time."
About AbundaTrade.com:
The company, AbundaTrade.com, is the modernization and revitalization of Millennium Music, a once stubbornly successful independent music retailer and Inc Magazine case study. AbundaTrade.com guarantees the highest overall value online for your gadgets, used CDs, used DVDs, used Books, used Blu-Rays and used Video games. The company specializes in 're-commercing' consumer products by purchasing them for cash then reselling them online. The company typically pays significantly more for more products than any other company in the industry