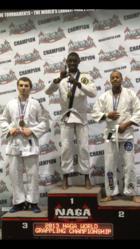 Morrison, NJ (PRWEB) April 24, 2013
This past weekend, April 20 & 21st, marked the NAGA World Grappling Championships. Athletes from all over the east coast converged on Morrison, NJ to test their skills in both gi and no gi grappling.
Team Lloyd Irvin sent a host of young men and women to compete with NAGA's best grapplers, including standout Team Lloyd Irvin athlete Jason Kusimo.
Jason, 21, entered the men's white belt 160-169lb division on April 20th. Jason, after training extensively with Master Lloyd, had the chance to show off his new moves, beating four opponents to win the gold medal. Jason's finals match was decided 8-0, as he could not finish his opponent in time.
The young man has been training for a year at Lloyd Irvin's Martial Arts Academy. He works at the Academy to support his training program. Master Lloyd is putting a lot of energy and effort in to Jason, so look out for him in the near future as he progresses through the Brazilian Jiu Jitsu ranks.
Team Lloyd Irvin will send Jason, and many others to the NAGA Championships in Virginia Beach next month.