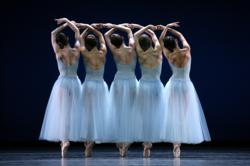 Chroma is a program that embodies everything there is to love about dance. The skill, the grace, the emotion, the strength – these three ballets have it all.
BOSTON, MA (PRWEB) April 24, 2013
On May 2, 2013, Boston Ballet presents two stunning Balanchine classics, and a provocative Company premiere by The Royal Ballet's Resident Choreographer, Wayne McGregor. The program features McGregor's Chroma and two of George Balanchine's monumental works, Serenade and Symphony in C. Performances run from May 2 – 12, 2013 at The Boston Opera House.
"Chroma is a program that embodies everything there is to love about dance," said Artistic Director Mikko Nissinen. "The skill, the grace, the emotion, the strength – these three ballets have it all."
The word Chroma is defined as the purity of color, or its freedom from white. Playing off of that exposition, McGregor's Chroma is set on a pure white stage featuring ten dancers dressed in flesh colored leotards that accentuate their movement. At once sophisticated and tempestuous, the choreography pushes the physical limits of the human body in a beautifully organic composition. This groundbreaking work is set to an aggressive score by Joby Talbot, featuring music arrangements by Jack White of The White Stripes. The orchestration requires one of the largest groups of musicians Boston Ballet has ever held in its pit, including 6 percussionists. Chroma has won several awards since its premier with The Royal Ballet on November 16, 2006, including the 2007 Laurence Olivier Award for Best New Dance Production.
George Balanchine's enchanting Serenade opens the program, featuring 26 dancers and a magnificent score by P.I. Tchaikovsky. Serenade was the first ballet that Balanchine choreographed in America, and is considered one of the great masterpieces of the 20th century. Originally created as a lesson in stage technique, Serenade showcases Boston Ballet's fluency in the Balanchine style. This iconic work is comprised of four movements and highlights the musicality and elegance of the female ensemble.
Balanchine's Symphony in C completes Chroma. Described as "life-enhancing" by The New York Times, this trademark work showcases high-energy classicism, exuding the radiance and technical finesse that Balanchine is known for. A total of 52 dancers move to a spectacular score by Georges Bizet. Bizet composed this symphony at age 17 when he was studying at the Paris Conservatory. Upon acquiring the music in 1947, Balanchine choreographed this piece in only two weeks while serving as a guest ballet master for the Paris Opera Ballet. Symphony in C remains a celebrated work in ballet repertory.
All performances of Chroma will take place at The Boston Opera House:
Thursday, May 2, 2013 at 7:30 PM
Friday, May 3, 2013 at 7:30 PM
Saturday, May 4, 2013 at 1:00 PM
Saturday, May 4, 2013 at 7:30 PM
Sunday, May 5, 2013 at 1:00 PM
Thursday, May 9, 2013 at 7:30 PM
Friday, May 10, 2013 at 7:30 PM
Saturday, May 11, 2013 at 7:30 PM
Sunday, May 12, 2013 at 1:00 PM
For more information, please visit: http://boxoffice.bostonballet.org
About Boston Ballet
Founded in 1963, Boston Ballet is one of the leading dance companies in the world onstage, in the studio, and in the community. Under the leadership of Artistic Director Mikko Nissinen and Executive Director Barry Hughson, Boston Ballet has developed exceptional education and community initiatives, in addition to maintaining one of the largest ballet schools in the world, Boston Ballet School.
Boston Ballet maintains a repertoire of classical, neo-classical, and contemporary works, ranging from timeless classics such as Marius Petipa's The Sleeping Beauty and Giselle, John Cranko's Romeo and Juliet, and a rich collection of Balanchine choreography to cutting edge contemporary works by Resident Choreographer Jorma Elo and the visionary Jiří Kylián.
2012-2013 Season Tickets
Subscriptions for the 2012-2013 season and individual tickets to all ballets are on sale now. Subscriptions and all tickets are available for sale online 24 hours a day at http://www.bostonballet.org or by phone at 617.695.6955 or in person at the box office at 19 Clarendon Street, Boston, Mon–Fri, 9:30am-5pm and on performance days on Sat and Sun, 11am – 4pm. Prices for season ballets start at $29. Tickets to The Nutcracker start at $35. Discounted group tickets (10 or more) are available by calling the box office or the Group Sales Associate at 617.456.6343. Contact the Boston Ballet box office at 617.695.6955 or visit http://www.bostonballet.org for details.
Boston Ballet gratefully acknowledges the following institutional partners:
State Street Corporation, 2012 Presenting Sponsor, The Nutcracker
Barr Foundation
The Boston Foundation
Massachusetts Cultural Council
National Endowment for the Arts
# # #