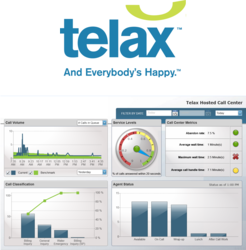 "These dashboards add another level of visibility into contact center performance," said Vladimir Pereira – Chief Architect at Telax Hosted Call Center, "Call Center Managers can quickly identify areas of improvement resulting in faster resolutions."
(PRWEB) April 24, 2013
Telax Hosted Call Center, a leader in cloud contact center software, is pleased to announce a new cutting edge contact center dashboard to allow quick insights into key metrics.
The real-time dashboard intelligently presents agent, caller, and service level metrics in formats such as: pie charts, gauges, histograms, line graphs, and more.
"These dashboards add another level of visibility into contact center performance," said Vladimir Pereira – Chief Architect at Telax Hosted Call Center, "Call Center Managers can quickly identify areas of improvement resulting in faster resolutions."
With one glance of the new dashboard, you're given clear visibility into call volume, call classification, agent status, and service levels (including: wait time, abandon rate, and call handle time).
The new executive dashboard is a standard feature of the Telax Hosted Call Center Solution along with many standard and custom reports. Telax understands how important clear, precise metrics are for contact center executives, and they continue to standout with their innovative solution.
-30-
Telax Hosted Call Center, provides the capabilities to create a world-class customer care and service desk operation. By leveraging cloud computing, Telax delivers an advanced contact center solution with more functionality than traditional hardware at a fraction of the cost. Telax clients get a customizable, easy-to-use solution that includes responsive, full-service support and no long-term contracts. The simplicity delivered by Telax Hosted Call Center enables clients like Best Buy, Johnson & Johnson, CI Investments, Health Canada and the GSA, to provide the best service to their customers, valuable business intelligence to their executives, and a user friendly solution for their agents. The result is a better customer experience today and a better organization tomorrow. And Everybody's Happy.™
Request a free demo to learn more.