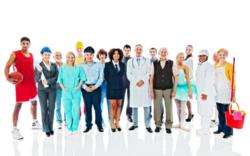 A thorough pre-employment background check is just what the doctor ordered!
Cathedral City, CA (PRWEB) April 25, 2013
In no other industry do people place their trust, even their lives, as much as they do with health care professionals. The physical safety and health of patients are dependent on trustworthy employees. The most intimate details of a person's personal and financial lives are in jeopardy if they can be accessed by unscrupulous employees. The potential for negligence, abuse, criminal action and financial wrongdoing is high, so it is vital for health care employers to have a dependable system for ensuring the reliability of new hires.
John DiViggiano, President of Cathedral City, CA-based Spectrum Business Solutions, LLC, adds, "In addition, patient rights legislation has imposed stringent controls on patient privacy and data security, so the element of compliance is added to an employer's own sense of responsibility."
Spectrum's new Health Care search packages are designed to give an employer peace of mind about the employees to whom they grant access to data systems, buildings and secure areas, drug storage, expensive equipment and vulnerable patients.
The search package includes checks for Employment History, Education Verification, Criminal Records, Sex Offender Search, Nationwide Background Search, Professional License and Certification Verification, Nurses Aide Registry Check, HHS/ Office of Inspector General's Exclusion List Check, Health Care Sanctions Check, National Practitioner Data Bank Check, Food and Drug Administration Debarment List, Government Services Agency Exclusion List, Health Care Integrity and Protection Data Bank Check, and FDA Disqualified/Restricted/Assurances List for Clinical Investigators.
"A health care industry HR professional will not find an easier, more comprehensive Health Care Screening package anywhere else," says Mr. DiViggiano.
Spectrum Business Solutions, LLC web-based search engine utilizes "state of the art" search technology, and it's all at the click of a mouse. Qualified accounts are set up with a username and password, and are able to access Spectrum's Search Engine 24/7. "Busy HR professionals appreciate the ability to perform these comprehensive searches on their own time schedule", adds Mr. DiViggiano.
To learn more about the Health Care Search Package, just call (888) 332-8229, or visit their website at http://www.spectrumbusinesssolutions.biz.